Wednesday, August 18, 2010
Say What :: Baby Doll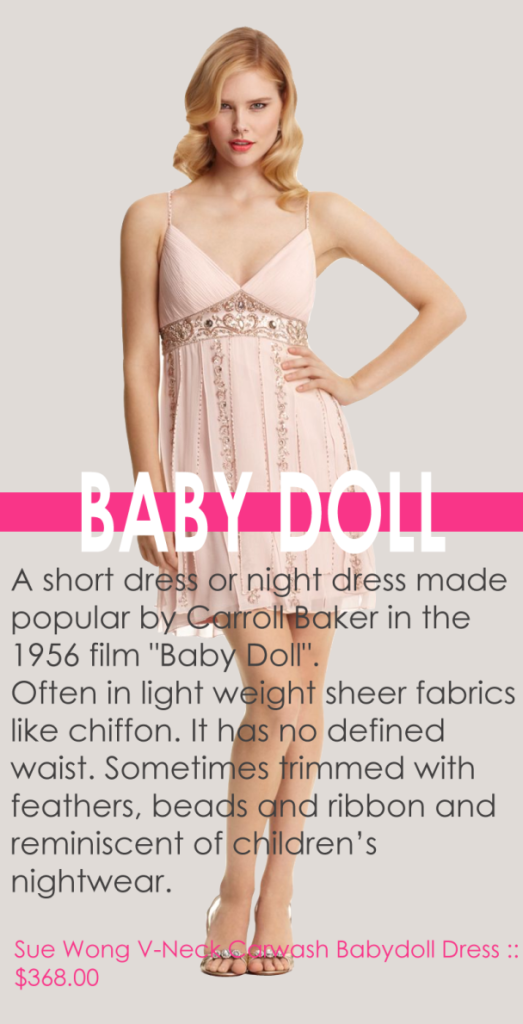 10:31 PM
Friday, August 13, 2010
~Beachwear for Different Body Shapes (Part 1)~
Whether you are curvy, tall, pear or hourglass , there's a beachwear that will definately suit your shape.
PEAR SHAPE
Good upper body, narrow shoulders, wider bum or thighs
Bikini
If you want to slim your lower body and add volume to your upper body, go for a plain and darker colored bikini bottom and a patterned or bold coloured top. To shift focus from the bottom to the top, you can always go for a chunky necklace as well! Boy shorts can show off a flat stomach which pears very often have, and if cut high enough can give the illusion of a flat stomach, even if yours isn't quite at washboard yet.
One-Piece
Go for a one-piece that is more interesting and shapely around the neckline and plainer towards the bottom. One-pieces with padding on the bust and a gathered fabric will help to balance your figure by creating volume up top. Look for horizontal pleating in the middle to emphasise your waist.
Cover Up
A large sarong in a dark bold colour or large prints and tied around the smallest part of your waist will help create a maxi skirt down to the floor, which will lengthen and slim your legs. Pair it with your bikini top to show off your toned upper body. Go for nude coloured sandals or shoes to elongate your legs.

1 ~ Bikini Top :: Freya Swim Carousel Bikini Top, $56.00 from
Figleaves
2 ~ Bikini Bottom :: Carmen Marc Valvo Tunisia Shirred Bikini Bottom, $62.00 from
Bluefly
3 ~ One-Piece :: Fantasie Nevada Twist Front One-Piece Swimsuit, $105.00 from
Bare Necessities
4 ~ Cover Up :: Hoss Intropia Sarong, $55.00 from
Yoox
APPLE SHAPE
Generous bust and tummy, short waist, good legs
Bikini
Halterneck styles are often good for apple shapes as they break up the bust and shoulders and also provide added support for generous busts. Go for colour on the bottoms and a plainer top, or just choose one colour all over. Another style of bikini top that works for an apple shape is the balconette style which will lift and separate your bust, giving you a longer waist and a more hourglass figure instead.
Some apples are conscious of their bellies, if so opt for a bikini bottom that sits just below your belly button with a high cut leg to flatten your stomach or opt for a Lycra tankini with a longer top to hold you in.
One-Piece
Heart shape necklines will help to create softer lines around the bust and break up the volume a bit making you look slimmer all over. Halterneck styles will look sexy and offer you enough support if you want to hit the swimming pool but ensure your bosoms are contained! Hidden bust support is always a great idea for bustier ladies.
Cover Up
Use a large sarong that goes down to the floor, hold two corners of the sarong then twist the fabric, swapping hands to create a halterneck cover up. The style will add structure to your top half, drape down over your body to hide your belly yet show off your fantastic legs.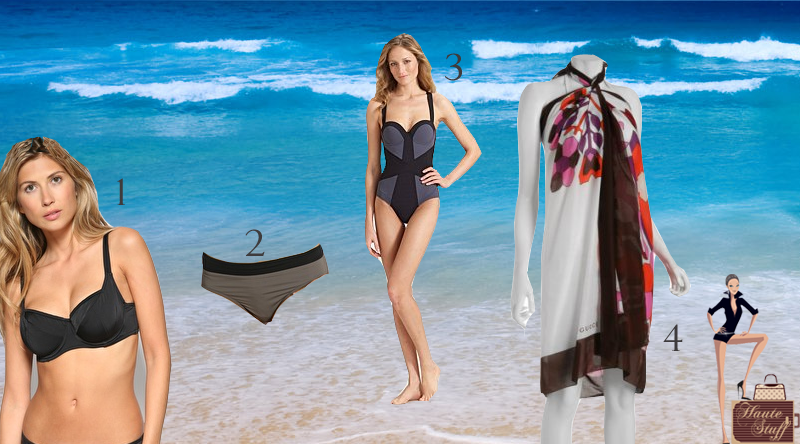 1 ~ Bikini Top :: Asos Mix and Match Balconette Bikini, $23.59 from
Asos
2 ~ Bikini Bottom :: Sunseeker Summer Rose Plaine Roll Band Briefs, $42.13 from
Asos
3 ~ One-Piece :: Spanx Color Block One-Piece Suit, $198.00 from
Saks Fifth Avenue
4 ~ Cover Up:: Gucci Maroon Geometric Floral Sarong, $300.00 from
Bluefly
9:09 PM
~Most Iconic Swimsuits (Part 2)~


Farah Fawcett, Charlie's Angels, 1976
To promote her instant celebrity in Charlie's Angels, a Cleveland poster company arranged to shoot Fawcett in a bikini at her house in 1976. She wasn't comfortable so exposed, so she pulled this red one-piece from her closet. The company hated the pic, but Farrah had final approval (and retained photo rights). The poster sold over 12 million copies and is still for sale today.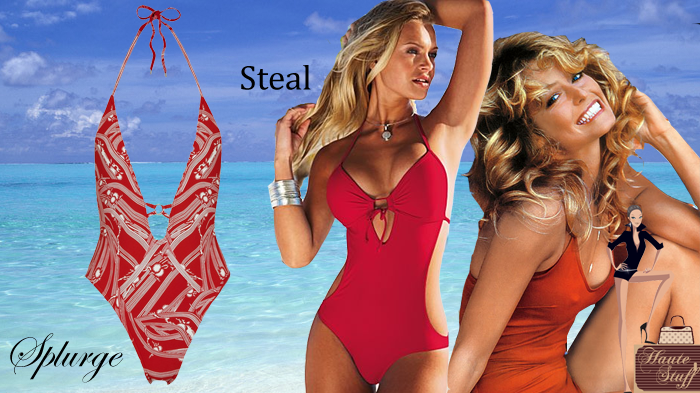 Splurge: Tomas Maier Printed Plunging Swimsuit, $435.00 from The Outnet
Steal: Venus Sweetheart One-Piece, $59.00 from Venus


Phoebe Cates, Fast Times at Ridgemont High, 1982
In 1982's Fast Times At Ridgemont High, Phoebe Cates plays a sophisticated teenager with a skimpy bikini as red as her lipstick. The scene in which she emerges in slow motion from a friend's backyard pool is still a classic.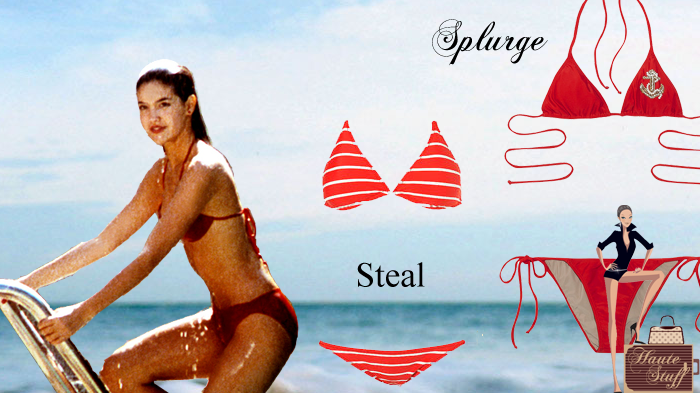 Splurge: Tara Mathews Embellished Halter Bikini, $350.00 from
8:30 PM
Monday, July 26, 2010
~Most Iconic Swimsuits (Part 1)~
Check out these leading ladies in the most iconic swimsuits which sizzled the big screen in Hollywood.
Brigitte Bardot, The Girl In The Bikini, 1952
Four years before her performance in And God Created Woman established Brigitte Bardot as an international sex symbol, she made a stir as The Girl in the Bikini. And it's easy to see why: The pale two-piece she wore in the 1952 film was simple, yet sensational.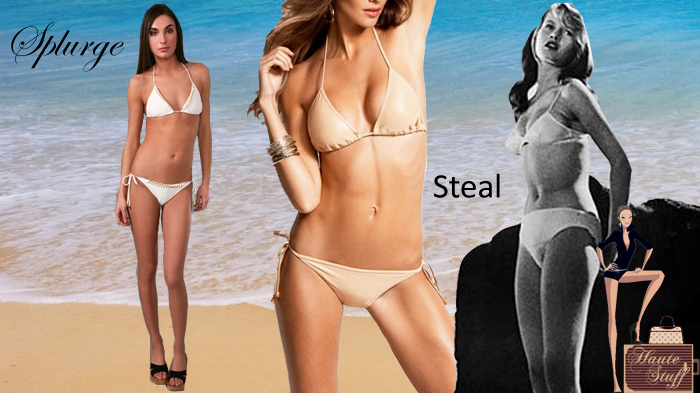 Splurge: Brette Sandler Coco Triangle Bikini, $165.00 from
Shopbop
Steal: Express Pale Gold Bikini, $54.80 from
Express
Deborah Kerr, From Here to Eternity, 1953
"I don't think anyone knew I could act until I put on a bathing suit," Deborah Kerr once said, referring to her star-making turn as an adulterous wife in 1953's From Here To Eternity. But what a bathing suit it was! Sexy, yet structured, with a wide, waist-cinching belt, it was just the thing for a wave-splashed romp in the sand with co-star Burt Lancaster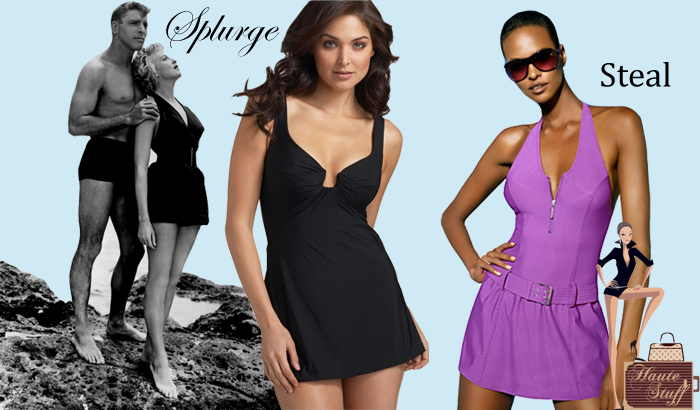 Splurge: Miraclesuit 'Something to Talk' Swimdress, $152.00 from
Nordstrom
Steal: Shape Fx One Piece Belted Control Swimsuit, $59.00 from
Shape FX
Ursula Andress, Dr. No, 1962
The first-ever Bond girl, in 1962's Dr. No, set the bar pretty high. (Indeed, this was Rubenstein's pick for Most Iconic Suit.) "As Honey Rider," he said, "Ursula Andress stepped out of the Caribbean and into the fantasies of every guy longing to be James Bond. The matching knife belt was a cute touch."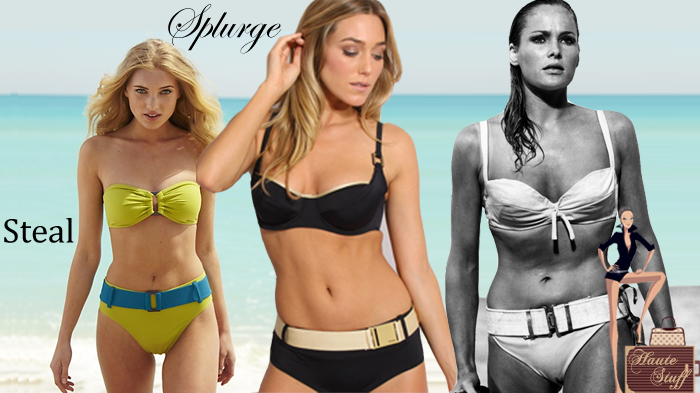 Splurge: Freya Color Block Bikini, $96.00 from
Asos
Steal: Ring Trim Belted Swimsuit, $40.00 from
Newport News
Source:
InStyle
6:23 PM
Friday, July 23, 2010
~ A New Layout ~
Hello Dahlings,
What do you think about the new layout?
I know it's not really me...I usually use darker colors and edgier images.
However, I thought a change (we have used the old layout for 1 and a half years) could be good. So, I present to you the new layout...it's pink and it's pretty.
Do let me know if you prefer the old layout, as I can always switch back!
XoXo
Estrella...
12:30 AM
Tuesday, April 06, 2010
Bluefly Exclusive Footage From ANTM
Hello Darlings,
I know that this is alil late, but I thought it'll be nice to see the antics of the potential America's Next Top Model.
Bluefly has exclusive and juicy footage of last week's episode of ANTM! Beautiful Simone was the challenge winner, but it wasn't all smiles behind the scenes at the Spring 2010 campaign photoshoot for Bluefly.com. Watch the exclusive video
here
!
Bluefly's fabulous Creative Director, Camila Hiro, tells us
why
Simone was chosen and what they look for in models when casting for Bluefly's campaigns.
Also, check out pictures from Simone's ANTM shoot and get a chance to play Art Director by picking your fave Simone shot
here
!
Wondering what happened to the Bluefly go-see challenge losers? They hit the Bluefly "cage" as punishment!
Watch it
!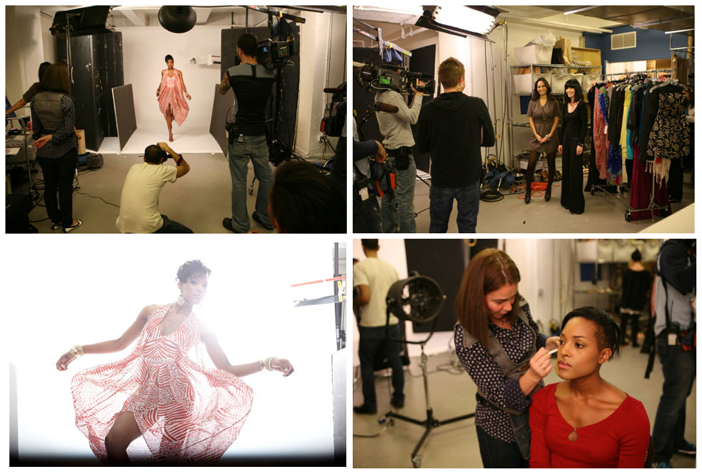 10:22 PM
Saks Fifth Avenue and Jimmy Choo want to know
How would you wear your Choos

SAKS FIFTH AVENUE PARTNERS WITH
CLOSET COUTURE AND JIMMY CHOO
TO INTRODUCE
CHOO 24:7 THE COLLECTION
MARCH 27- APRIL 10, 2010
Saks Fifth Avenue and Jimmy Choo invite you to play fashion stylist.
Visit ClosetCouture.com and style an outfit using items in the Jimmy Choo closet.
The creators of the top three outfits (as selected by Jimmy Choo) will each win three pairs of Jimmy Choo shoes from CHOO 24:7 the Collection.
CHOO 24:7, a definitive assortment of iconic Jimmy Choo shapes, is the perfect shoe wardrobe taking women from day to evening, 7 days a week.
To Enter:
1. Follow Jimmy Choo 24:7 on Closet Couture to read more about the collection and get access to their closet.
2. Make an outfit featuring at least one pair of Jimmy Choo shoes from the closet and anything else from your closet or others.
3. Save the outfit and include "Jimmy Choo" in the title of the outfit.
Enter as many times as you'd like and Jimmy Choo will pick the top three outfits that they like best. Winners will be announced the week of April 20, 2010.
Go to
ClosetCouture.com
to enter NOW!!!
8:32 PM
Monday, March 22, 2010
I'm baaaaccccckkkkkkkkk
Hi Darlings,
I know that I've been away for a very very looooong time. But I have recetly given up my job as a talent agent to continue modelling as well as to come back to blogging.
Since Haute Stuff just turned three, I will be revamping it alil.
I recently posted two new logos for Haute Stuff and have chosen the logo below. Thank you for helping me make up my mind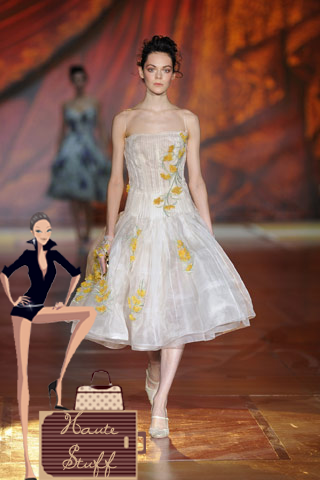 I am also going to change the layout of Haute Stuff, so let me know what you think after I put them up (soon).
XOXO
Estrella
12:48 AM
Saturday, March 14, 2009
Sample Sales
Hey girls, I am back!!!
Finally after a year of rest and relax.
Miguel Ases is havibng his annual sale. All jewelry is made with 14k gold fill and semi-precious stones. Miguel Ases is sold in high-end departmental stores like neiman Marcus, Barneys and Bloomingdales.
Sale Begins ::
Thursday, 19 March 2009
Sale Ends ::
Saurday, 21 March 2009

Event Times ::
Thursday to Friday - 11.00am to 7.00pm / Saturday - 11.00am to 6.00pm
Location ::
150, W 25th St. (betweel 6th & 7th Avenue), Suite 601, New York, NY
Phone Number ::
(212) 334-4755
Payment Mode ::
Cash / VISA / MC / AMEX (No Checks)
View Larger Map
~~~~~~~~~~~~~~~~~~~~~~~~~~~~~~~~~~~~~~~~~~~~~~~~~~~~~~~~~~~~~~~~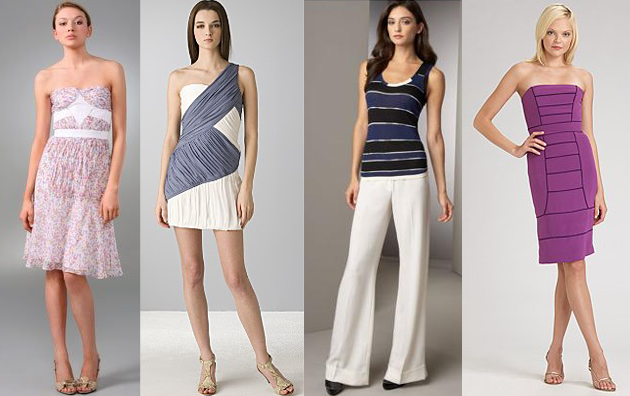 Shop the Abaete sample sale and find a great selection of sexy, sophisticated cocktail dresses, easy-to-wear sun dresses, cool fall sweaters and jackets, and bright 40s inspired swimwear from their fall 2008, holiday 2008, and resort 2009 lines.
Sale Begins ::
Monday, 16 March 2009

Sale Ends ::
Friday, 20 March 2009

Event Times ::
Monday to Friday - 9.00am to 6.00pm
Location ::
560 Broadway Suite 509 New York, NY 10012
Phone Number ::
(212) 337-9646
Payment Mode ::
Cash / VISA / MC (No AMEX)
View Larger Map
11:39 AM