Sunday, September 30, 2007
Fashionista NY Sample Sale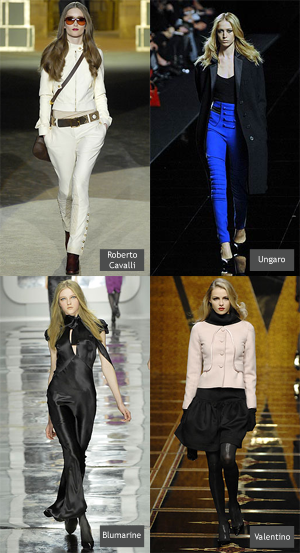 Friday, September 28, 2007
FALL In Love With Shoes - Part 4
Banded Ballet Flats
Flats are not going anywhere. You can find them in all types, too. They fit lots of trends and can be dressed up or down. I have a few and wear them with everything!
Look for elastic bands for both comfort and style. Most are round-toe, but try a pointed one for dressier occasions.
Wear Them With ::
Slip on a pair of ballerinas with capris, skirts, dresses, pants and jeans, work trousers.
Do not wear them with wide-leg pants.
Will the ballet flats ever go out of style?
1. Free People Clothing Jewel Toned Flats, $68.00 at
Free People
This pair of flats reminds me of my younger ballet dancing days.
2. Tory Burch Houndstooth Reva Ballet Flat, $225.00 at
Scoop NYC
A more flamboyant take of the popular Reva Flat..
3. Tod's Ballerina Dee, $345.00 at
Saks
Driver style shiny patent leather ballets with tie front detail and rubber pebble sole.
Tuesday, September 25, 2007
Acne Jeans Saint Lambskin Purse
Many of us dealt with acne at some point. So, to name brand after such a nuisance would seem like a bad omen. However, it is the complete opposite. Acne Jeans have paved quite a path for themselves, creating a loyal following. New on the block are handbags to the Acne Jeans line. Will they garner as much buzz as the already sought after jeans? The Acne Jeans Saint Lambskin Purse creates a slouchy Bohemian appeal with the soft lambskin and huge 17″ drop from the shoulder straps. Additional volume is added with the pinktucked gathers, which gives off a poof to the handbag. Not only is this bag a must-have, it also acts an a pillow.
Get it from
eLuxury
for $575.00
Happy Mid-Autumn Festival
I know that this post has nothing to do with fashion, but I guess I am feeling home sick. So, let me share with you my second favorite celebration –
The Mid-Autumn Festival
.
The Mid Autumn festival also called the Mooncake festival is celebrated every year on the fifteenth day of the eighth month of the lunar calendar. When the moon is at its maximum brightness for the entire year, the Chinese part of me celebrates 'zhong qiu jie' (I'm sorry I can't spell it in Chinese characters. I can only write my Chinese name).
When I was a little fashionista, my mother will tell me the story of the moon fairy who comes out to dance on the moon's shadowed surface. The legend surrounding the 'lady living in the moon' dates back to ancient times, to a day when ten suns appeared at once in the sky. The Emperor ordered a famous archer to shoot down the nine extra suns. Once the task was accomplished, Goddess of Western Heaven rewarded the archer with a pill that would make him immortal. However, his wife found the pill, took it, and was banished to the moon as a result.
According to my grandma, there is another legend. One day, the 'Man in the Moon' was spotted at an inn, carrying a writing tablet. When questioned, he said he was recording the names of all the happy couples who were fated to marry and live happily forever after. Accordingly, just as June is the traditional month for exchanging nuptials in the west, many Chinese weddings are held during the eighth lunar month, with the fifteenth day being the most popular. This is my favorite story.

So, what do the Chinese do during this festival? Well, they ::
Eat mooncakes outside under the moon

Which I never do because I will finish all the mooncakes before the festival.
Putting pomelo rinds on one's head

Carrying brightly lit lanterns

Planting Mid-Autumn trees

I have never done this.
Since I could not get a ticket from NY to Shanghai (where my parents are), my friends and family gave me these adorable mooncakes.
My parents sent me this snow skin Coffee mooncakes from Starbucks in Shanghai.
My Japanese grandma sent me this. It's too pretty to eat!
My best friend got this for me from China Town is Aussie.
My neighbor knew I was homesick, so she made these for me.
Saturday, September 22, 2007
Haute Shop...Patricia Fields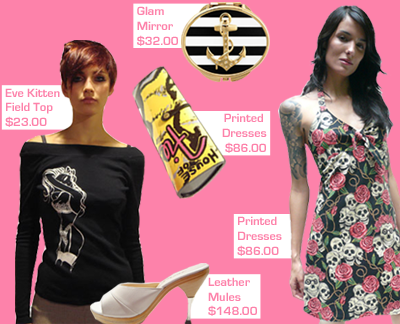 What ::
Patricia Field's megastore has 4,000 square feet of fun clothing, wacky accessories, costumes and bridal lingerie. The designer's self-titled, store adds hair and makeup services, plus skin-care products from Jun Nakayama. Patricia Field has everything from a patent leather maid or vinyl nurse outfit to a hot pink dress. There is a wide range of prices and a variety of styles. Peruse Patricia Field's label choices like Kimmora Lee Simmons, Hollywood, Lip Service and selections from her own line. Patricia Field is the famed stylist from 'Sex & The City' and 'Devil Wears Prada'.

Who's Been In ::
Sarah Jessica Parker
Jessica Alba
Britney Spears
Christina Aguilera

Where ::
302 Bowery
New York, NY 10012
(212)966 4066
Patricia Field



Wednesday, September 19, 2007
Say What...Azzedine Alaïa
Sprkle Plenty
Jewelry is just simply indispensable. They reflect character and are important to making any outfit look great! Like art, jewels are a a form of personal expression.
Choosing your jewelry is no different than choosing your wardrobe. It never hurts to step out of your comfort zone once in awhile. Your jewelry is the finishing touch on your total look. Make your fashion statement count! Look for jewels that tell stories of exotic locales and superlative handcraftsmanship.
1.
Summit Rock Pendant, $48.00 at
White House
Alluring teardrop pendant with chunky glass beads and delicate seed beads.
2.
ShopIntuition Rectangle Jewel Bracelet, $35.00 at
ShopIntuition
Add glam to any ensamble with this jewel bracelet. Jewels are strung together with elastic material to ensure the perfect fit.
3.
Elizabeth Cole Jeweled Snake Ring, $325.00 at
Vivre
This stricking evening appropriate ring is 24k gold-plated with crystals. Wear this beautiful piece of art with a simple and elegant dress.
4.
Stephen Dwek Pear -Shaped Rock Crystal Earrings, $600.00 at
Neiman Marcus
Glistening earrings that are as elegant as they are sparkly.
5.
Missoni Large Stone Necklace, $955.00 at
Net-A-Porter
Rectanguler link neckace with oversized stones adds a Missoni punch to this neckace.
6.
Nadri Tiered Chandelier Earrings, $138.00 at
Nordstrom
Draw attention to your neck and decoletage with this earring. Glittering stones and crystals cascade beautifully on French wires.
7.
Kenneth Jay Lane Jeweled Cuff, $175.00 at
Intermix
This elegant cuff adorned with beautifu multi-colored faceted crystals in yellow, plum, ruby, blue, emerald and white has hinged opening on the side which allows you to easily snap the cuff onto your wrist.
8.
Guess Hematite Jet Oval Ring, $35.00 at
Guess
A bold and modern piece, this ring is accented by jet-colored stones in a ray of patterns.
Monday, September 17, 2007
My Favorite Stars And Their Dresses
The Emmy Awards red carpet was all about the glamour last night. The women and the men all showed up in their finest. Here are my favorite.
Ali Larter
Ali Larter paired her glamorous satin Reem Acra gown with dangling diamond earrings for an added dazzle. Larter describes her slinky red dress as "Little silver of nothing". It's no wonder why she is one of People's best dressed.
Becki Newton
Becki Newton, the evil receptionist Amanda in Ugly Betty looked gorgeous in this strapless tulle mermaid gown.
Debra Messing
The presenter and nominee wore a white and black Ralph Lauren gown with Cartier diamonds for a sophisticated and elegant look. Debra Messing who was nominated for Outstanding Lead Actress in a Miniseries.
Eva Longoria
The Desperate Housewives star opted for a short sparkling silver Kaufman Franco dress with a low back instead of the traditional sweeping gown. Kaufman also designed Eva's wedding reception dress.
Heidi Klum
Heidi Klum, whose reality show Project Runway, is nominated for an Emmy dazzled on the red carpet in a strapless Dior gown that channeled old Hollywood glamour. The supermodel wore a diamond encrusted bangle to complete her look.
Kate Walsh
Private Practice star and Dr. McDreamy's wife (in Grey's Anatomy) Kate Walsh accessorized her Pamela Dennis crimson satin dress with shoes by Jimmy Coo and gems from Neil Lane. The red head wore a matching red lipstick, exuding 30's glamour.
Katherine Heigl
Katerine Heigl arrived in a white mermaid Zac Posen dress. She completed her sleek gown with gems from Ryan Ryan (who made her engagement ring) and a minaudiere from Mary Norton. She picked up an award for Outstanding Supporting Actress In A Drama Series for her role as Izzie on my favorite show, Grey's Anatomy. I am quite surprised that she won. She should thank the character Denny.
Sandra Oh
Leaving her Grey's scrubs behind, Sandra Oh a.k.a Dr. Christina Yang is elegant in her black and white Bottega Veneta gown and H. Stern jewels.
Portia de Rossi
Beautiful Portia and partner Ellen DeGeneres arrived for the Emmy Awards in blue. Actress Portia de Rossi stuns in a dramatic blue Azzaro with a sparkling serpent halter. Talk show host and Daytime Emmy Award winner Ellen looked chic in Gucci.
Sunday, September 16, 2007
Alvin Valley Fall Sample Sale
Steal Her Look - Jessica Alba
While everybody else showed up to the recent In Style Magazine and the Hollywood Foreign Press Association Toronto International Film Festival Party in their best duds, uber stylish Jessica Alba was surprisingly casual. Alba attended the event in sexy skinny jeans, a tee and leather jacket, mirroring the rocker in her.
Wednesday, September 12, 2007
Wedding Damsel
Trina ::
Hi darling! I love your blog!!! Anyways, I have his problem... I am attending my cousin's wedding as her main of honor in December. She has chosen this white dress (pic attached) for me. I do not want to outshine her on her big day. How should I pull off this dress? Thanks.
Moi::
Hi Trina, I had the same problem at my bestie's wedding. She chose a white dress for me too! I choose some accessories that will look good with the ensamble. Hope you like it.

Bolero :: Nanette Lepore Cozy Tie Capelet, $156.00 (original price, $260.00) at Bluefly
Since the wedding is goin to be held during winter, you can pull off a dinner jacket, a bolero or a capelet.

Belt :: Elegantly Waisted Ruffle Belt, $198.00 (original price, $396.00) at Label Spree
If you do not want to wear an outerwear, wear a belt instead.

Clutch :: Steve Madden Adora Chinky Clutch, $58.00 at Nordstrom
Big bold stones sparkle atop this patent clutch, making it an ideal bag for the night out.

Shoe :: Andrew GN Python-Embossed T-Strap Sandal, $725.00 at Vivre
A beautiful evening style heel that will keep you sparkling all night long. Embellished with faux rock crystals.

Necklace :: Rachel Leigh Hammered Circular Link Necklace, $180.00 at Couture Candy
Hammered long necklace with links will be a good complement to the cream dress.

Earring :: Forever21 Multi Ring Earring, $4.80 at Forever21
This pair of pretty hammered circular earrings will match perfectly with the long necklace.
Tuesday, September 11, 2007
Wink Annual Warehouse Sale
A favorite amongst A-Listers, New York's leader in the latest must have fashion accessories, Wink is having its third annual warehouse sale. Find up to 80% off handbags, jewelry, apparel, and shoes.
Some of the brands on sale include Rachel Pally, Andrea Brueckner, Mike and Chris, Sam Edelman, Julie Haus, Goldenbleu, Soixante Neuf, Seychelles, Fornarina, and more. For more information visit
WiNK
.
Monday, September 10, 2007
COCO MADEMOISELLE
Available by private pass for only two days, check out Mademoiselle Chanel's apartment in Paris. You can also watch a premiere showing of the COCO MADEMOISELLE film.
E-Mail me at
HauteStuffBlog@gmail.com
for the pass.
Sunday, September 09, 2007
FALL In Love With Shoes - Part 3
Oxford Booties
One of the hottest trends for fall is the oxford bootie. A whole lotta pump. Not so much boot. The booties are great for the office since they're both feminine and masculine and will look great with both skirts and tailored pants.
Wear Them With ::
Wear your booties with trousers or skirts paired with opaque tights.
Knee-length dresses and stovepipe pants.
1. Marc Jacobs Leather Lace-Up Bootie, $800.00 at
Saks
This mod multicolor leather bootie is sexy and sassy.
2. Circa Joan & David Sauge Pump, $128.95 at
Nordstrom
This ooh la love fashionable bootie features front laces and a suede covered platform.
3. Moschino Cheap & Chic Patent Oxford Bootie, $450.00 at
Shopbop
This is a perfect replacement for office loafers.
Evening Satins
Satin shoes are pretty, especially in bright colors.
Wear Them With ::
Patterned black-tie gowns in a rainbow of colors.
Match pinks with browns, plums with blacks, and blues with both.
1. Rampage Satin Wedge, $Price Unavailable at
Piperlime
Pair a colorful dress with this satin wedge.
2. Kate Spade Kit Slingback, $275.00 at
Nordstrom
Bring some color in fall with this sunshine-y orange pump.
3. Giuseppe Zanotti Carol Pumps, Price Unavailable at
Bluefly
A perfect shoe for a night about town.
Friday, September 07, 2007
NY Fashion Week Day 2
Badgley Mischka
The upscale label, a favourite among celebrities, took to the runway today at the New York Fashion Week.
"This was really the comeback collection," said Michael Fink, fashion director at Saks Fifth Avenue said. "It was glamorous for the evening but there were also modern, long and lean looks. There was just enough dazzle."
The collection was of the 20's flapper style and 70's resort theme. This was evident in their evening wear.
The brand's new muse Teri Hatcher was seated front row to support the designers.
Overall Rating :: I found the collection boring and old for my liking. So, neh!
Wednesday, September 05, 2007
NY Fashion Week Day 1
BCBG
The BCBG MAXAZRIA runway show was the second up in this season's New York Fashion week. Presenting a typically feminine collection BCBG was supported by Ashlee Simpson, Bittany Snow and Sophia Bush.
The palette was mostly grey and beige did not feel very spring-y for me. However the dresses were enough to make me love the collection. The dresses that Max Azria sent down his runway were captivating. Rich with fabrics like gauzes and tulles to added feminity. The dresses were floaty and flirty perfect for spring. Everything at the BCBG Max Azria show was belted. Dresse and blouses. The belted waist will still be a must for next spring.
Nicole Miller
Nicole Miller has proven that yellow isn't going anywhere. Nicole Miller's spring collection was sexy and sophisticated. She used a color palette of black, white, gray, neutrals, pastels and ofcourse sunshine yellow.
Her collection was filled with pencil skirts, high waisted pants, blouses and beautiful dresses. Something you can pull together for work, for formal events, and for play.
Tuesday, September 04, 2007
Fashion Legend Valentino Retires
Celebrated designer Valentino Garavani has announced his retirement. The revered designer / stylemaker / trendsetter who has spent 45 years on top of the fashion world, admits he knew it was time to quit after celebrating his 45th anniversary with extravaganzas in Italy in last July.
"Last July, in Rome, I celebrated my 45th Anniversary in Fashion. It was a moment of infinite magic and tremendous joy, and I cannot fully express with words how deeply moved I was by the occasion. I received an outpouring of good wishes from all over the world, which brought me great satisfaction. I was very touched that friends-old and new-traveled from far reaches to be a part of the Festivities," the 75 year old Italian designer announced.

Valentino is a master of elegance and opulence. In business since 1960, the Italian designer made his mark early on creating luxurious gowns with intricate detailing and tastefully body-conscious silhouettes. The fabrics tend to be both delicate and rich—laces, chiffons, and silk crepe, along with wool, leather, and suede. Valentino has long been popular among European royalty, American socialites, and celebrities. Valentino has also received numerous awards including a Neiman Marcus Prize (the equivalent of an Oscar in the world of Fashion).
Valntino will design one last ready-to-wear collection, to be shown during Paris fashion week in October and a final haute couture collection, scheduled for January 2008.
Fashion is, as of now, less elegant, less sophisticated, less feminine...and less red.
Sunday, September 02, 2007
Zelda & Z by Zelda - Women's Apparel Sample Sale
Zelda and Z by ZELDA will be holding their bi-annual two day sample sale. The two modern collections specializing in novelty jackets, great fitting bottoms, leathers, unique fabrics, and new silhouettes have developed a large cult-like following of celebrities. The sale event will feature items priced from just $35-$200, regularly retailing at $220-$750.
Tom & Linda Platt Sample Sale
Tom & Linda Platt, known for their modern and wearable cocktail and eveningwear collection which normally retails from $500-$5,000 is having a sample sale where prices are at wholesale and below, ranging from $50-$500. Sizes mostly range from 4-8. Other stock items are available in 4-16 and some plus sizes.

"Life is complicated, clothes should be simple" is the philosophy behind the Tom and Linda Platt Collection. Elegant but uncomplicated clothes with couture quality workmanship, streamlined silhouettes and a daring color sense are the hallmarks of this modern collection. It features predominately cocktail and evening wear with a representation of simple day and dinner pieces.


Saturday, September 01, 2007
FALL In Love With Shoes - Part 2
Flat Boots
Boots are back this fall. It's that simple. The best thing about these casual boots is that not only are they fashionable, they are comfortable as well!
Wear Them With ::
This season's styles beg to be shown off, so pair yours with a mini.
You can wear it with your skinny jeans and look fabulous.
1. UrbanOutfitters Leather Foldover Boot, $88.00 at
UrbanOutfitters
Relaxed tall leather boot has tobal seaming throughout.
2. BananaRepublic Stella Boot, $248.00 at
BananaRepublic
This casual boot is for perfect for skinny jeans tucked in.
3. Chloe Contrast Stitched Flat Boots, $1175.00 at
Net-A-Porter
Embrace your inner biker chick in this mouse leather knee high flat boots.
Mary-Jane
Mary-jane is a great look for fall. The once upon a time little girl shoes is now grown up.
Wear Them With ::
Denim and wool skirts.
Wear your shoe with another fall trend, 'The Schoolgirl Look'.
1. Jessica Simpson Berg Mary Jane Pump, $79.00 at
Macy*s
The oversized elastic band gives this mary-jane a modern twist.
2. Stuart Weiztman Mary Jane Pump, $295.00 at
Scoop
This pair of charcoal pumps are sexy and sophisticated. They are the ultimate shoes for fall.
3. Emilio Pucci Mary Jane Pump, $595.00 at
eLuxury
This classic mary-jane has polished leather upper with a classic 'school girl' buckle.