Friday, July 27, 2007
Christian Louboutin Satin Love
I have finally found my 'sole' mate. This sexy nude
Christian Louboutin satin peep toe
has a ruched detail which leads into knots that cover the toe (looks like a turban) with a Christian Louboutin signature red sole.
Truly stunning as well as sassy. Pair this shoe with delicate dresses and teeter to shoe heaven.
It costs a whopping £395 (aprox US$600.00), because they are the most beautiful pair of shoes I've ever seen. Espensive, but totally worth it.
Labels: Luxury Shoes
Thursday, July 26, 2007
Heat Up In A Sexy Bikini
This summer's chicest beaches, poolsides, & yachts promise to populated with a wild riot of prints, patterns, plunging necklines, cutaway cossies, and barely-there bikinis bordering on the exhibitionist, you will be hotter than hot when you hit the water.
Check out
So De Mel Swimwear
for sexy, glam and uber trendy swimwear.
So De Mel Swimwear only at
Kate Boutique
Wednesday, July 25, 2007
Haute Finds...Sexy Metallic
Turn up the attitude in this 4.5 inch heel. This Pastis sandal from Oh Deer! features snake embossed leather that intertwines at the forefoot with a peep-toe finish, while the lofty heel and platform capture a retro appeal. Stretch the limits of bold styling with studded back heel, finished with a wooden platform.
How disco queen is this???!!!
What ::
Oh Deer! Pastis
Where ::
Urban Outfitters
How Much ::
$99.99 (original price, $125.00)
Labels: Haute Finds, Luxury Shoes, Metallic
Monday, July 23, 2007
Get The 'Hairspray' Look


Hairspray is a cult classic about star-struck teenagers on a local Baltimore dance show. The entertaining musical romp features a collection of talents including John Travolta, Queen Latifah, Michelle Pfeiffer, Christopher Walken, Amanda Bynes, Allison Janney, Brittany Snow, Zac Efron and Elijah Kelley.

Other than the return of John Travolta 'the singer', the cast's eye-popping fashion is another good reason to catch Hairspray. Here is how to bring a little of their 60's style to your own life.

Queen Latifah can still look hot and be a civil rights activist in this animal print dress.


~~~~~~~~~~~~~~~~~~~~~~~~~~~~~~~~~~~~~~~~~~~~~~~~~~~~~~~~~
Amanda Bynes has this sense of small-town girl Osh Kosh B'gosh style in this vintage green, schoolgirl-esque jumper.
Forever21
~~~~~~~~~~~~~~~~~~~~~~~~~~~~~~~~~~~~~~~~~~~~~~~~~~~~~~~~~
Naïve Tracy Turnbald (Nikki Blonsky) looks ready for action in an old-school plaid skirt and white shirt.
Arden B.
~~~~~~~~~~~~~~~~~~~~~~~~~~~~~~~~~~~~~~~~~~~~~~~~~~~~~~~~~
Michelle Pfeiffer flashed her fit bod in this hot red cocktail dress.
Wednesday, July 18, 2007
The Simpsons Go To Paris
In conjunction to The Simpsons movie to be released in July, the August issue of Harper's Bazaar features The Simpsons attending various fall Fashion Week shows whith a cartoon Linda Evangelista.
With illustrations by Julius Preite - Homer, Marge, Bart, Lisa, and Maggie visit the houses of design including Lanvin, Louis Vuitton, Chanel, Versace, Victor and Rolf, and Jean Paul Gaultier. The spread surely turns heads and paints faces with smiles.
Text ::
Marge, Linda, Patty and Selma get ready to paint the town rouge.
Dresses, Gap. Flats (on Linda), Cole Haan. Luggage, Louis Vuitton.
Text ::
Marge, you minx! Living la vita Versace with the high priestess of sexy, Donatella.
All clothing and accessories, Versace.
Text ::
Karl Lagerfield with his eager student Homer, get the skinny on the ladies, in Chanel Couture.
All clothing and accessories, Chanel Haute Couture.
Text ::
Put on your pearls, girls! Alber Elbez admires Lisa's signature strand while she tries on his tuile-wrapped take on the classic.
All clothing and accessories on Lisa and Linda, Lanvin.
Text ::
Selma and Patty go Dutch in the advant-garde duo's dresses. The latest hot accessory? Personal scaffolding.
All clothing and accessories, Viktor and Rolf.
Text ::
A jolly jaunt in tartan with Jean Paul Gaultier.
All clothing and accessories on Linda and Marge, Jean Paul Gaultier.
Text ::
Family style. The Simpsons finaly make the front row clad in custom Louis Vuitton, as Marc Jacobs waves to his number-one fans.
All clothing and accessories, Louis Vuitton.
Tuesday, July 17, 2007
Jessica Simpson Launches Swimwear Line
After giving the world crappy music, a crappy reality show and crappy music, Jessica Simpson has finally done something right. This past weekend marked the launch of Jessica Simpson's new line of sizzling swimsuits at Miami's Mercedes-Benz Fashion Week. Is there anything she hasn't done yet? And they say she is a 'blonde'!
The former Newlywed reality star's new line includes all kinds of sexy bathing suits from skin-bearing, itsy bitsy bikinis to the more elegant one-piece suits. It is said that Jessica hand-picked the models herself and even helped them get ready backstage.
Here are some hot shots from Saturday's launch of Jessica Simpson's swimwear show at Mercedes Benz Fashion Week in Miami.
Lulu Guinness
British designer Lulu Guinness, renowned for her creating designs and glamorous evening bags. At the four-day sale, all handbags, clutches, cosmetic cases, toiletry bags & shoes will be marked up to 90% off the original retail price. So, save up for this big event!
Wednesday, July 11, 2007
Lace It With Love
Wear it as trimming or as a centerpiece, this lovely fabric speaks of romance, femininity and above all...style!
Nordstrom
2 – Emilia Blouse, $106.90 (original $268.00) at
Nordstrom
3 – Ines Batwing Tunic, $250.00 at
Couture Candy
4 – BCBG Strapless Beaded Chiffon Dress, $260.00 at
Macy*s
Luv Charlie Boutique
2 – Hanky Panky Eyelash Lace Camisole, $60.00 at
Shopbop
3 – Lux Sparkle Lace Sweater, $54.00 at
Urban Outfitters
4 – Arden B. Sweetheart Halter with Lace Trim, $68.00 at
Arden B
BananaRepublic
2 – a.n.a Lace Yoke Textured Shirt, $24.99 at
JCPenny
3 – Gap Rib Lace-Trim Cami, $29.50 at
Gap
4 – Jennifer Behr Wide Sheer Chiffon Headband, $39.00 (original $65.00) at
Intermix
Tips ::

Using lace as trimming on luxe fabrics like satin and chiffon gives them that extra enhancement. A winning combination for a dressy affair!
Just because lace has that English Rose appeal doesn't mean that you can't dress it down. Team a lace-trimmed top with a pair of bermudas for casual weekends.
Max your wardrobe mileage with a pretty lace tunic. Wear it with jeans or tailored pants to get a polished look or drape it over a bikini as a swim dress for a little resort flair.
Layer sheer fabrics... Pair a sheer lace tank with a chiffon blouse or shirt. You will look absolutely sizzling. Leave a few buttons undone so that your pretty lace top can be seen.
Darling Shopaholics...
Hey all, hope you like this new layout.

Let me know if you would like anything chaged.

xoxo Estrella
Tuesday, July 10, 2007
Hey Darlings...
I just realized that I will be at Bali on the 15th July, so I can not change the layout then. Therefore, I have decided to bring it forward to tomorrow.
I would like to thank the readers who voted, and to wonderful Jon for helping me with the new layout.
Off Screen Style
Do not let their on-screen fashion sense fool you... Off-set, these chic beauties are a stylish force to be reckoned with.


On-screen at The Office :: Dull and boring.
Off-screen :: Striking star with a great sense of fashion
On-screen at Devil Wears Prada :: Clueless fashion case.
Off-screen :: Cool fashionista. Anne knows what is right for her and which is not.
On-screen at Ugly Betty :: Frumpy fashion victim.
Off-screen :: A curcy siren.

Monday, July 09, 2007
Haute Finds...Flirty Dress
This pretty and flirty coctail dress is season-friendly. It will look great anytime of the year. The dress combines sophistication, beauty and style. Therefore, I bought one online. YAY!!!


The stunning brown v-neck dress has braided straps down the back, forming an X shape. Hence, leaving the back elegtantly backless.
What ::
Tied Up Chocolate Dress
Where ::
Fashion Chateau

How Much ::
$164.00
Louis Vuitton Dentelle
Louis Vuitton recently launched their latest limited edition line for Spring/Summer. The Dentelle lace collection is an update of the classic LV monogram bags. These limited edition bags are flirty, with pretty lace details. The details give the classic well loved bag a feminine, Victorian charm.

I am actually thinking of getting the speedy. I'm not sure which color I like though.





Louis Vuitton
Fersen Bag
$2,422.00 at
eLuxury
Louis Vuitton
Batignolles Horizontal
$1,720.00 at
eLuxury
Louis Vuitton
Monogram Dentelle Speedy 30
$1,420.00 at
eLuxury
Sunday, July 08, 2007
What Are The Stars Wearing This Summer?
Nicolette Sheriden looked amazing lounging with hubby Michael Bolton in her blue embroidered bikini.


The Steal
Mossimo Embroidered Butterfly Swim Halter Top - $17.99 at
Amazon
Mossimo Embroidered Butterfly Bikini Bottom - $17.99 at
Amazon
~*~*~*~*~*~*~*~*~*~*~*~*~*~*~*~*~*~*~*~*~*~*~*~*~*~*~
Penelope Cruz perfects the hair commercial hair toss in her black and white floral bikini.

The Steal
Lisa Curran Floral Surplice Top – $60.00 at
Urban Outfitters
Lisa Curran Floral Surplice Bottom - $60.00 at
Urban Outfitters
~*~*~*~*~*~*~*~*~*~*~*~*~*~*~*~*~*~*~*~*~*~*~*~*~*~*~
Beyonce looks bright in her beaded bikini.

The Steal
Nolita Yellow Bikini - $75.00 at
Yoox
~*~*~*~*~*~*~*~*~*~*~*~*~*~*~*~*~*~*~*~*~*~*~*~*~*~*~
With a purple bikini, oversized sunnies and hair swept casually back, Uma Thurman is a glamorous beach belle

The Steal
OldNavy String Bikini Top - $16.50 at
OldNavy
OldNavy String Bikini Bottom - $16.50
OldNavy
~*~*~*~*~*~*~*~*~*~*~*~*~*~*~*~*~*~*~*~*~*~*~*~*~*~*~
Eva Longoria and hubby Tony Paker relaxes on a Yatch in St. Tropez in a metallic two-piece.

The Steal
Fashionjunkee Metallic Bikini - $40.00 at
Fashionjunkee
~*~*~*~*~*~*~*~*~*~*~*~*~*~*~*~*~*~*~*~*~*~*~*~*~*~*~
Sexy Victoria Secret model Alessandra Ambrosio take time off to sun bathe in her crochet bikini.

The Steal
Armani Exchange Crochet Bikini - $14.99 at
A
/X
Armani Exchange Crochet Bikini Bottom - $14.99 at
A/X
Haute Finds...Summer Dress
Is this not a wonderful summer-y dress? It's so pretty. It has a flattering silhouette, embroidered summer florals, an empire sash that ties at the back. and a flirty skirting. This dress is really very feminine.
What ::
Embroidered Dress
Where ::
MaxStudio
How Much ::
$128.00
Inside Out
I love Lee Lee...but, I am not sure I love her style though. She is known for her outreageous style. What do you think of this look?
Monday, July 02, 2007
Rock The Hermès Clutch
At the recent
Hermès
Fall/Winter 2007 fashion show, models were carrying a new breed of clutches. These multi-purpose bags act as a clutch and a hand-warmer during the winter months. They look really ridiculous to me. How much do you think they will be retailed for?

Do you love it or hate it?
Paris in Hawaii
Paris Hilton is back to her jet-setting ways, touching down in Hawaii (in a disguise) after her prison ordeal with no entourage, no bodyguards and no party friends. The hotel heiress then had a little splash at the pool, dined with some friends and went on a retail therapy at Banana Republic (very un-Paris). She looked sophisticated and summer-y in her black get-up. She had on a
Da-Nang Shirt Dress in Black ($193.00)
, a
Chanel Classic Quilted Bag ($1580.00)
and a black
Michael Kors Bradford Point-Toe Pumps ($210.00)
.
She shield her eyes form the summer sun with an
oversized sunglasses ($350.00)
. Do you think Paris' goody-goody image will change?

Steal Paris' look without a Hilton fortune…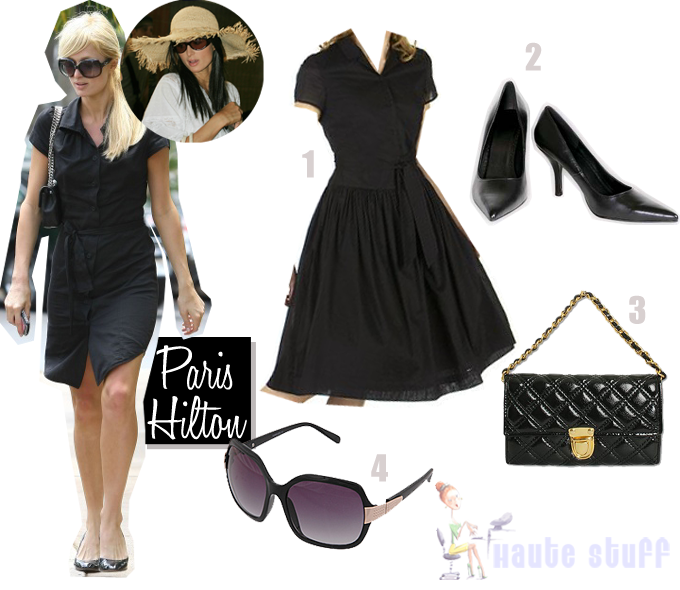 1 . Isaac Mizrahi Belted Shirtdress – Price N/A at
Target
2 . Hot Topic Black Pointed Toe Heel - $22.99 at
Hot Topic
3 . Shop Intuition Quilted Clutch with Chain - $50.00 at
Shop Intuition
4 . Forever21 Oversized Sunglasses - $5.80 at
Forever21
8:36 AM
Sunday, July 01, 2007
Lollilicious!!!
Have yourself a little sugar treat that lights up a wardrobe of dark.


Use colors as accents to dress up basic shades such as black, blue or white. Giving monotones a dose of fire engine red or electric blue gives your clothes that instant shot of energy! Try on a funky watch or a sunshine-y clutch in bubblegum yellow or a hot pink belt. Don't worry about the colors jaring. The whole idea is to go just a little overboard.

1. Steve Madden Spiral Flat - $79.00 at
Macy*s
2. Tricoastal Design Gingham Headband - $6.00 at
Nordstrom
3. Square Colored Numbers watch - $75.00 at
Shop Intuition
4. Bottega Veneta Orange Weave Tote - $1,225.00 at
Couturemode
5. Free People Ethnic Flip Flops - $20.00 at
Free People
6. Ben-Aum Orange Cabochon Earrings - $50.00 at
Bluefly
7. Guess Patent Waist Belt - $39.99 at
Guess Online
8. Fossil Lucy Leather Clutch - $48.00 at
Fossil
9. Spitfire-Atlantic Small Prawn Sunglasses - $39.00 at
Urban Outfitters
Eva The Diva
'America's Next Top Model' Cycle 3 winner, Eva Marcille (she officially dropped Pigford), looked absolutely fabulous at this year's BET Awards. Her
Laundry by Design Blanket Stripe Wrap Dress
looked very flattering to her figure and was perfect with her skin tone. As we can't see her shoes, I have chosen
Jimmy Choo's Mardi Metallic Sandals
which will look dazzling with the multi-colored dress. She completed her look with a
silver clutch
and a few
Lucite bangles
. I have always felt that she was the best ANTM winner. With her sense of style, Eva has definitely achieved her top model status.

Steal her look without breaking your wallet...

1. Wet Seal Emma Maxi Dress - $32.50 at
Wet Seal
2. Forever21 Textured Pattern Bangle - $4.80 at
Forever21
3. Shop Intuition Faux Python Clutch - $45.00 at
Shop Intuition
4. Spiegel Strappy Sandal - $29.00 at
Spiegel