Monday, October 22, 2007
Patti Rose Sample Sale


Patti Rose presents their exclusive European and American designer sample sale featuring Carolina Herrera, Gucci, & Brioni. Shop for glamorous couture styles of Dolce & Gabbana, Dior, Blumarine, Pucci, Brioni, Roberto Cavalli, Ungaro, and American designers that include Bill Blass, The Wrights, Jennifer Tyler Cashmeres, Steilmann and others. Save up to 75% off at the sale.

Event Begins :: 10/29/2007
Event Ends :: 10/31/2007
Event Times :: Monday, 4.00pm to 7.00pm / Tuesday, 9.00am to 7.00pm / Wednesday, 9.00am to 4.00pm
Location ::
124 East 58th Street (Between Park & Lexington Avenue), Ground Floor, New York, NY 10022
Phone Number :: (917) 533-8251
Payment Type :: VISA / MC


View Larger Map
10:21 AM
Saturday, October 20, 2007
Luxe for Less
Every woman's wardrobe should include a LBD (little black dress). Dress it down for work, or dress it up for a hot date.
Luxe
Vanessa Bruno Athe Short Sleeve Pleated Dress, $350.00 at
Shopbop
Adorable felt dress with scoop neck and pleating at waist and cuffs. It is work-
appropriate and perfect for a girls-night-out.
Less
Isaac Mizrahi Garden Party Dress, $24.49 at
Target
Short and sweet lightweight cotton dress with a wide sash-style belt that creates an hourglass shape.
5:16 AM
Thursday, October 18, 2007
Haute Shop...SEVEN New York
What ::
This uber haute underground (literally) store is an apt location for creative fashionistas.
The lines carried at Seven are a direct reflection of owners Steve Sang and Joseph Quartana's personal style. They pride themselves on being well-stocked with the absolute latest of trends created by the most adventurous of designers for the next couple of seasons, at the very least.
With a fashion-forward mix of designers like Proenza Schouler, Preen and Boudicca Seven is frequented by A-Listers looking for something a little different.
Who's Been In ::
Mary J. Blige
Lindsay Lohan
Madonna
Chloë Sevigny
Where ::
110 Mercer Street
New York, New York 10012
(646)654 0155
SEVEN New York

8:39 PM
Sweater Love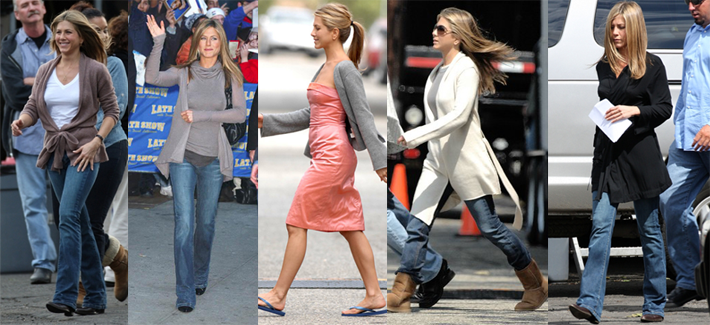 Super hottie and girl-next-door Jennifer Aniston has been spotted wearing sweater after sweater, after sweater recently. Jennifer's wrap cardigans are the perfect outerwear for fall. She is currently busy her new movie 'He's Just Not That Into You' with Ben Affleck and Drew Barrymore.
Here are a few of my fave sweaters ::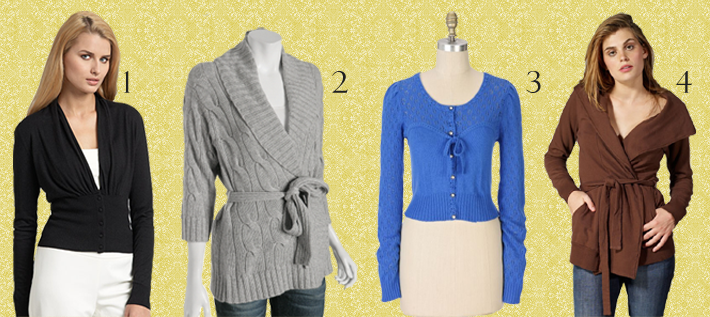 1. Take-5 Cardigan, $68.00 at
White House
Feminine button down sweater that is slim through the waist.
2. AdamPlusEve by Adam Lippes Grey Cashmere Cardigan, $291.00 at
Bluefly
This Adam + Eve's heather grey cardigan is youthful, preppy and sexy.
3. Anthropologie Corset Stitch Cardigan, $88.00 at
Anthropologie
Thinly ribbed sweater knit wool and cashmere cardigan with corset arched seams.
4. Woo Anya Wrap in Coffee, $165.00 at
Revolve Clothing
The soft, sweater with seductive fabrics makes this a favorite.
~~~~~~~~~~~~~~~~~~~~~~~~~~~~~~~~~~~~~~~~~~~~~~~~~~~~~~~~~~~~~~~~~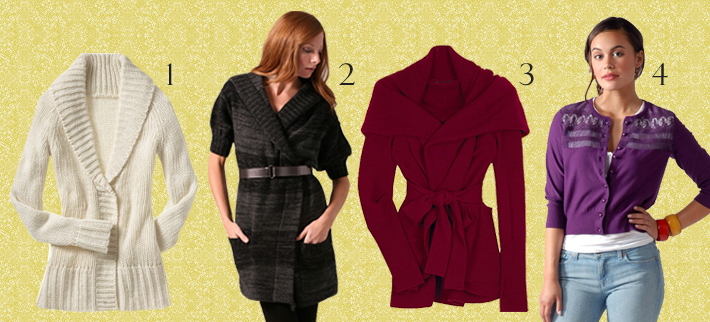 1. Old Navy Shawl-Collar Cardigan, $36.50 at
Old Navy
Cozier and cuddly cardigan that can be worn over a simple top and jeans or try it with a dress and the season's favorite Oxford booties.
2. Vince Textured Sophie Cardigan, $340.00 at
Shopbop
This is a must-have sweater for fall. Unique striped cardigan sweater with hood and oversized, safety-pin closure.
3. Alexander McQueen Hooded Wrap Cardigan, $1,875.00 at
Net-A-Porter
Ruby red wrap style cardigan is perfect for everyday wear. As seen on the runway.
4. Plenty by Tracy Reese Cardigan, $185.00 at
Tobi
This detailed embroidered mini cardigan has glossy tonal buttons that line the front.
2:06 AM
Wednesday, October 17, 2007
I Want This!!!
When IT bags in tried-and-tired metallics and boring logo monograms start to take their toll, it's time to bring some urban-tribe elegance to your must-have of the season. Fendi's quirky Voodoo Bag with its ethnic yarns and offbeat oaillettes is quite unlike other tote.

This designer bag is festooned with wild wool, spangles, colored leather, glitter and felt pailettes, making this bag look like it is adorned with mermaid scales.

So, how do you put together an ensamble to go with this out-of-the-world bag? Play the mix master and wear this bag with unlikely textural pairings such as silk and angora, or go boho-chic with a kaftan and jeans.

This delish bag is priced at around $7500.00.
7:40 AM
Runway Your Way - Marc Jacobs
Key Look ::
Preppy was the inspiration for Marc's Fall 2007 collection. The Gatsby-esque line featured heavy layering, long and lean silhouettes plucked out of the 1920s. Look at menswear, slim, boyish silhouettes, high-waisted silhouettes, colorblocking, colorful accessories, and metallic shine.
Here are a couple of Marc Jacobs-esque options.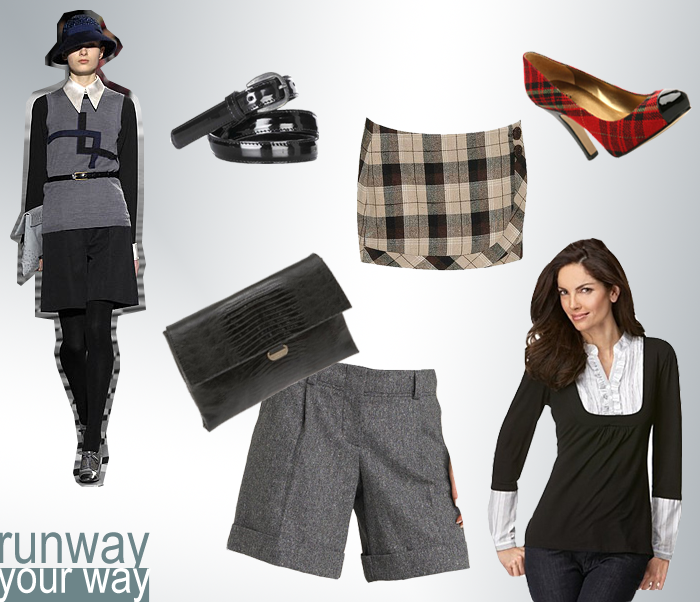 Top :
Style & Co. Ruffled-Shirt With Attached Sweater, $40.00 at
Macy*s
Fun and flirty sweater top with a mandarin collar striped shirt.
Pants :
Trina Turk Philippe Tweed Shorts, $218.00 at
Nordstrom
Single pleats and cuffed hems in a tweedy wool blend makes this pair of shorts perfect for cool weather.
Skirt :
Forever21 Wool Skirt, $19.80 at
Forever21
Plaid pattern wool blend skirt with ornate button detail.
Clutch :
Charles David Cecilia Large Clutch, $165.00 at
Amazon
Large clutch that can be used for both day or night.
Belt :
Bottega Veneta Patent Skinny Belt, $280.00 at
Net-A-Porter
A skinny patent belt is a wardrobe essential.
Shoe :
Guess Arabella Pump, $110.00 at
Guess
Sophisticated cap-toe pumps is a must-have for this fall.
6:09 AM
Sunday, October 14, 2007
Style Icon - Brigitte Bardot
While many of us look to celebrities for fashion inspiration, we must not forget fashionistas from yester-year like Audrey, Marilyn, Marlene, and one blond sex bomb, Brigitte Bardot.
Her style was simple, youthful and chic. French women are renowned for their great fashion sense and Bardot was no different. Being naturally very beautiful, she alluded glamour in her sensational looks. She had a distinct way of sexifying a cardigan, cropped jeans and flats.
Her style embodies the French approach to dressing. Feminine, elegant and largely very simple, but always very seductive.
1. Forever21 Striped Rib Knit Top, $12.80 at
Forever21
Simple and classic versatile striped top is perfect for a day of retail therapy or for a date.
2. AG Adriano Goldschmied The Stilt Cigarette Jeans, $145.00 at
Saks

Embody Brigitte Bardot's sex appeal in this low rise super skinny cigarette leg jeans.
3. Sigerson Morrison Ballet, $275.99 (orginal price, $395.00) at
Piperlime
Ballet inspired skimmer with jewel ornamentation.
4. Jennifer Behr Wide Ribbed Knit Headband, $88.00 at
Intermix
Cozy ribbed knit headband measures seven inches wide and secures at the back with patent leather tab ends attached with an elastic cord.
5. Tom Ford Eyewear Serena Sunglasses, $340.00 at
Shopbop
Sexy Bardot style sunglasses with squared plastic frames and metal detail at sides.
6. Louis Vuitton Damier Canvas Keepall, $875.00 at
eLuxury
Smooth chocolate Damier canvas with rounded leather handles with handle strap for an elegant carry. An update of Brigitte Bardot's favorite carryall.
7. Necessary Objects™ Shift Dress, $58.00 at
Nordstrom
Sheath dress with pert cap sleeves finished with oversized decorative buttons in the back.
8. Stuart Weitzman 50cent-mid, $475.00 at
Zappos
Fabulous thigh-high boot with a pointy toe design and wedge heel.
3:28 AM
Wednesday, October 10, 2007
Max & Chloe Sample Sale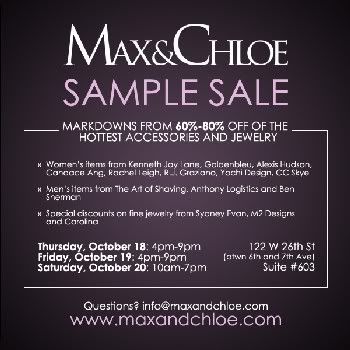 Max & Chloe is having their first ever sample sale! Look out for great discounts on summer and fall merchandise. Max & Chloe will also be having special pricing on fine jewelry and new collections at the sale only.

See you there!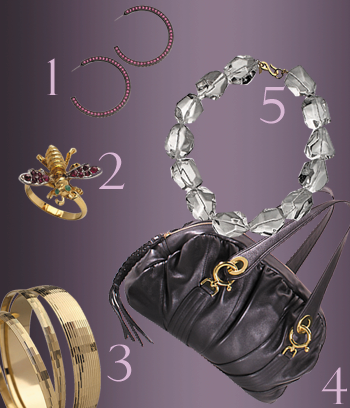 1. Kenneth Jay Lane Fucshia Crystal Hoops
Glittering rhinestone open hoops in Fuchsia.

Normal Price :: $150.00 / Sale Price :: $69.00

2. Pade Vavra Honey Bee Ring
The bee has genuine ruby wings and emerald eyes and made of vintage materials.

Normal Price :: $154.00 / Sale Price :: $98.00

3. Yochi Gold Disco Bangle Set
Attract fun everywhere you go with this set of 3 textured bracelets.

Normal Price :: $49.00 / Sale Price :: $28.00

4. Goldenbleu Black Jordan Bag
This essential black bag features a ruching and seam detail throughout front and back.

Normal Price :: $625.00 / Sale Price :: $415.00

5. Kenneth Jay Lane Rock Crystal Necklace
This must-have rock crystal necklace fastens with a gold plated clasp.

Normal Price :: $250.00 / Sale Price :: $135.00
1:02 AM
Friday, October 05, 2007
Bag Borrow Or Steal Vintage Collection
Bag Borrow or Steal, the 'luxury on loan' makes vintage a thing of the present with the launch of their Vintage Collection. The new collection is a compilation of the most sought-after vintage handbags in the world available for borrowing.
The Vintage Collection features iconic designers including Hermès, Chanel, and Gucci. The collection gives every woman the opportunity to incorporate the glamour of another era into her daily wardrobe with rare, hard to find pieces from past decades.
"Bag Borrow or Steal pays close to attention to the key fashion trends of today, in addition to predicting the fashion trends of tomorrow," said Patricia Hambrick, chief marketing officer for Bag Borrow or Steal. "In the ever-changing world of fashion, vintage accessories are in high demand right now. Through the Vintage Collection, we are giving women easy access to a whole new level of luxury and making it possible for them to experience the excitement of carrying a designer vintage handbag."
Bag Borrow or Steal worked closely with Clair Watson, couture consultant for Doyle New York and now vintage curator for Bag Borrow or Steal, to assemble the collection, leveraging Watson's extensive knowledge of vintage accessories, to ensure that every handbag in the collection is authentic.
"As a result of the rising popularity of vintage accessories, their price tags are soaring, nearly doubling what they were 10 years ago," said Watson. "Vintage fashion makes a distinctive style statement in a fashion landscape where it is increasingly difficult to stand out. The designer handbags in the Vintage Collection give women the means to enhance their personal style and express their individuality."
Each piece in the Vintage Collection will be individually priced with monthly rental fees ranging from $100-4,800. Weekly rental will be available, starting for as low as $40.
Some of the available Vintage handbags ::
Why is fashion luxury from the past so sought-after today? As Elizabeth Mason writes in Valuable Vintage, "The great thing about vintage is that it doesn't get old, it just gets older...!" So just how old is vintage? The fashion industry defines the vintage era the last 100 years. Anything older than that—such as Victorian—is referred to as "antique."
12:07 AM