Wednesday, August 18, 2010
Say What :: Baby Doll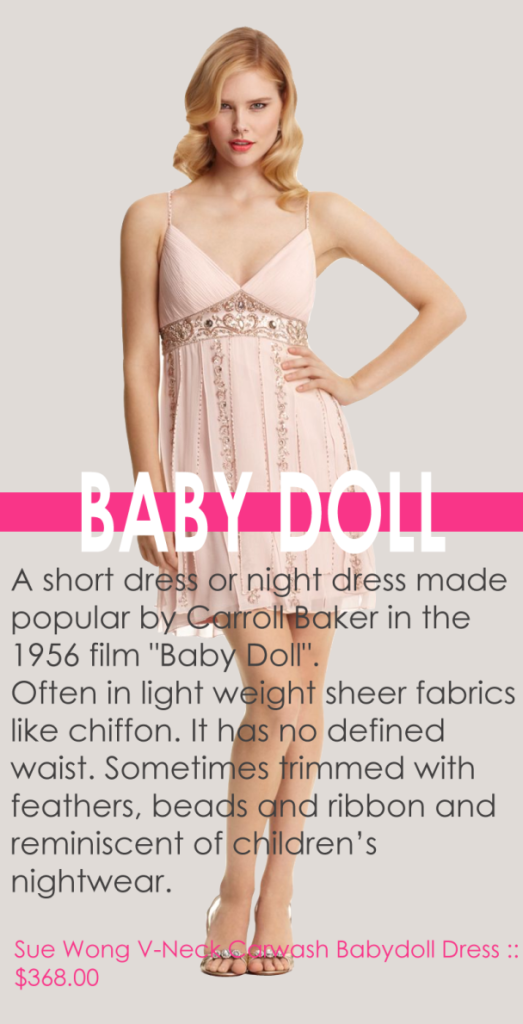 10:31 PM
Friday, August 13, 2010
~Beachwear for Different Body Shapes (Part 1)~
Whether you are curvy, tall, pear or hourglass , there's a beachwear that will definately suit your shape.
PEAR SHAPE
Good upper body, narrow shoulders, wider bum or thighs
Bikini
If you want to slim your lower body and add volume to your upper body, go for a plain and darker colored bikini bottom and a patterned or bold coloured top. To shift focus from the bottom to the top, you can always go for a chunky necklace as well! Boy shorts can show off a flat stomach which pears very often have, and if cut high enough can give the illusion of a flat stomach, even if yours isn't quite at washboard yet.
One-Piece
Go for a one-piece that is more interesting and shapely around the neckline and plainer towards the bottom. One-pieces with padding on the bust and a gathered fabric will help to balance your figure by creating volume up top. Look for horizontal pleating in the middle to emphasise your waist.
Cover Up
A large sarong in a dark bold colour or large prints and tied around the smallest part of your waist will help create a maxi skirt down to the floor, which will lengthen and slim your legs. Pair it with your bikini top to show off your toned upper body. Go for nude coloured sandals or shoes to elongate your legs.

1 ~ Bikini Top :: Freya Swim Carousel Bikini Top, $56.00 from
Figleaves
2 ~ Bikini Bottom :: Carmen Marc Valvo Tunisia Shirred Bikini Bottom, $62.00 from
Bluefly
3 ~ One-Piece :: Fantasie Nevada Twist Front One-Piece Swimsuit, $105.00 from
Bare Necessities
4 ~ Cover Up :: Hoss Intropia Sarong, $55.00 from
Yoox
APPLE SHAPE
Generous bust and tummy, short waist, good legs
Bikini
Halterneck styles are often good for apple shapes as they break up the bust and shoulders and also provide added support for generous busts. Go for colour on the bottoms and a plainer top, or just choose one colour all over. Another style of bikini top that works for an apple shape is the balconette style which will lift and separate your bust, giving you a longer waist and a more hourglass figure instead.
Some apples are conscious of their bellies, if so opt for a bikini bottom that sits just below your belly button with a high cut leg to flatten your stomach or opt for a Lycra tankini with a longer top to hold you in.
One-Piece
Heart shape necklines will help to create softer lines around the bust and break up the volume a bit making you look slimmer all over. Halterneck styles will look sexy and offer you enough support if you want to hit the swimming pool but ensure your bosoms are contained! Hidden bust support is always a great idea for bustier ladies.
Cover Up
Use a large sarong that goes down to the floor, hold two corners of the sarong then twist the fabric, swapping hands to create a halterneck cover up. The style will add structure to your top half, drape down over your body to hide your belly yet show off your fantastic legs.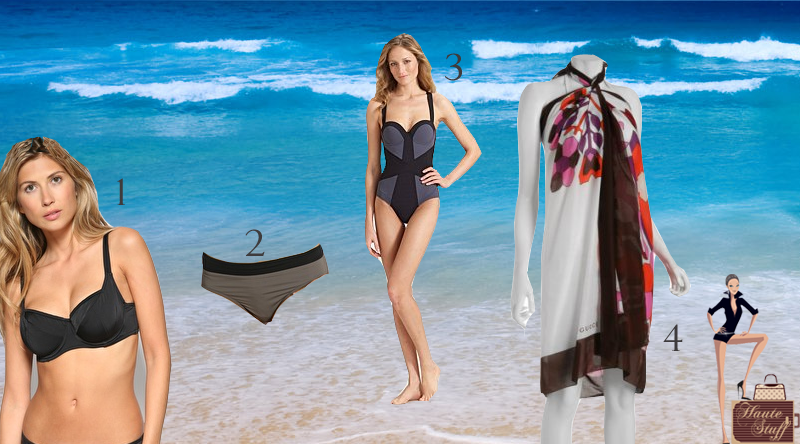 1 ~ Bikini Top :: Asos Mix and Match Balconette Bikini, $23.59 from
Asos
2 ~ Bikini Bottom :: Sunseeker Summer Rose Plaine Roll Band Briefs, $42.13 from
Asos
3 ~ One-Piece :: Spanx Color Block One-Piece Suit, $198.00 from
Saks Fifth Avenue
4 ~ Cover Up:: Gucci Maroon Geometric Floral Sarong, $300.00 from
Bluefly
9:09 PM
~Most Iconic Swimsuits (Part 2)~


Farah Fawcett, Charlie's Angels, 1976
To promote her instant celebrity in Charlie's Angels, a Cleveland poster company arranged to shoot Fawcett in a bikini at her house in 1976. She wasn't comfortable so exposed, so she pulled this red one-piece from her closet. The company hated the pic, but Farrah had final approval (and retained photo rights). The poster sold over 12 million copies and is still for sale today.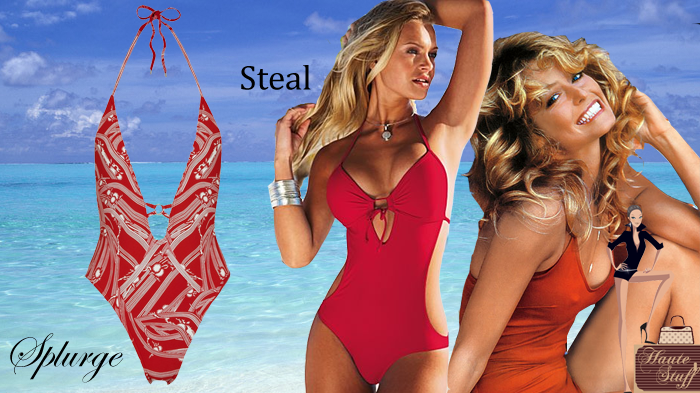 Splurge: Tomas Maier Printed Plunging Swimsuit, $435.00 from The Outnet
Steal: Venus Sweetheart One-Piece, $59.00 from Venus


Phoebe Cates, Fast Times at Ridgemont High, 1982
In 1982's Fast Times At Ridgemont High, Phoebe Cates plays a sophisticated teenager with a skimpy bikini as red as her lipstick. The scene in which she emerges in slow motion from a friend's backyard pool is still a classic.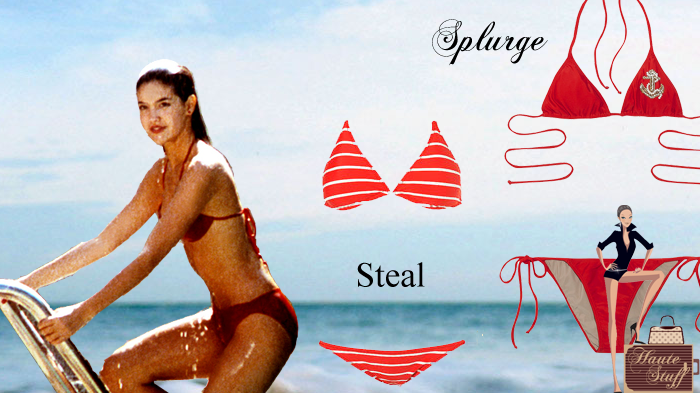 Splurge: Tara Mathews Embellished Halter Bikini, $350.00 from
8:30 PM