Thursday, August 30, 2007
Showroom Seven Multi-Designer Sample Sale
Showroom Seven is once again unloading multi-talented deigners on the cheap. Showroom Seven is offering 60% off retail prices for top designer and contemporary collections.
Featuring ::
Issa, Orla Kiley Acc, Erickson Beamon, A&G Cashmere, Robin, Vivia Ferragamo, Tony Cohen and others.
Wednesday, August 29, 2007
FALL In Love With Shoes - Part 1
Ankle Boots
Ankle boots are a great statement piece this season. This style is perfect for fashionistas who are always at the fashion forefront but still want to keep it classic.
Wear Them With ::
Electric colored or denim skinny jeans.
Given that long tunics are hot this season, wear them with leggings and throw on a pair of ankle boots instead of boring jeans.
Ankle boots also work well with the leggings and skirt combo.
1. Chinese Laundry Canela Ankle Boots, $44.79 at
Endless
If you thought only Chinese Laundry's sandals were sexy, here's an ankle boot that will keep you looking hot through the fall and winter months as well.
2. Guess Felidia Ankle Boots, $145.00 at
Guess
This sexy ankle boot with 3.5 inch heel is perfect for jeans. The pointed toe will help give the illusion of longer slimmer legs.
3. Paul & Joe Novices Ankle Boots, $275.00 (original price, $550.00) at
Net-A-Porter
Taupe leather ankle boots with a stack heel is very casual yet stylish.
Cap-Toe
This fall we will see women's shoes with cap decorations. You can spot these cap decorations on on slingbacks, pumps, and mary-janes.
Wear Them With ::
Skirt suits and wool trousers with cashmere turtleneck sweaters.
1. Anne Klein Pompi, $88.95 at
Zappos
Update your look with this contemporary cao toe pump. Featuring a 3.5 inch heel
with leather upper and fabric trem, pair this with your power suit to work.
2. Steve Madden Foxey, $200.00 at
Piperlime
As the name implies, slip into this sexy boot with jeans tucked in for a casual
yet stylish look for autumn.
3. Marc Jacobs Pump, $425.00 at
Nordstrom
This classic mary jane is perfect for the cooler months. There is a school girl
charm to this pair of cap toe pumps.
Thursday, August 23, 2007
This electric skinny jeans with zippers at the side is sexy and very 80s.
Steal Her Look - Hayden Panettiere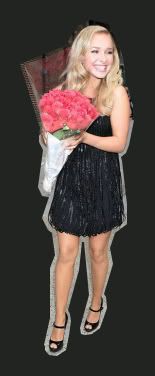 Hayden Panettiere made a trip to the Big Apple for a 'Late Night with David Letterman'. Hayden looked really pretty and adorable in her sequin mini dress.
1. Alice + Olivia Sequin Strap Dress, $440.00 at
Shopbop
This pretty Silk-georgette mini dress has sequined ribbon banding hanging loose
at the skirt, featuring a ballon hem. It is classic yet age appropriate for the
birthday girl.
2. Christian Louboutin Lowa Mary Jane, $590.00 at
Saks
This peep-toe Mary Jane is classic, in shiny patent leather
3. Steve Madden Brytni Platform Pump, $99.95 at
Steve Madden
Slip into a pair of these peep toe mary janes and feel like a sex bomb.

4. Arden B. Embellished Babydoll Tunic, $98.00 at
Arden B.
Babydoll tunic with an all over sequin design and beaded trim around the
neckline.
Wednesday, August 22, 2007
Stop Annoying Me!!!!!
I am boycotting ShopStarStyle. They keep sending me messages through my email promoting the site. I can bear with that. What really blew my top was when they posted a comment on one of my post talking about the brands I can purchase from them.
Does anyone know if I can report them or do something other than getting frustrated?
Thanks.
Estrella
Sunday, August 19, 2007
Shoes for Short Shorts
Shorts have been a summer-time staple for decades. Micro shorts can be more flattering than a lot of women think - especially when they're paired with the right shoes. As shorts can be very unforgiving, pick out your shoes carefully. The wrong pair can make you look like you work on the streets. Another pair of shoes can make you look totally different.
Ankle Strap
Sandals with ankle straps are just plain sexy. They are an ideal match for shorts. Dressier styles are great for twill, linen and other dress shorts. The trendy platforms or sandals with chunky heels are great for denim. However, if you are vertically challenged, try not to wear shoes with ankle straps as they will cut your legs in two sections making you look stockier than you really are.
1. Spiegel Ankle Strap Sandal, $34.99 (original price, $59.00 at
Spiegel
2. Louis Vuitton Amber Ankle Strap Sandal, $825.00 at
eLuxury
3. Camille Cork Platform, $252.00 (original price, $615.00) at
Footcandy
Wedges
Since they show so much leg, short shorts can handle a more significant heel. Wedges are a great choice for summer. However, stay away from bulky wedges. Choose styles that feature thinner straps to keep our feet from looking too chunky.
1. Nine West Linneus, $79.00 at
Piperlime
2. Kors by Michael Kors Brooke Wedge, at $240.00
Madison LA
3. Oscar de la Renta Open Toe Wedge, $322.50 (original price, $645.00) at
Oscar de la Renta
Ballet Flats
Take a cue from Mischa Barton and wear ballet flats. Ballet flats are perfect for the casual look. There are a variety of dressy and casual shoes to choose from. Wear them with cotton or denim shorts.
1. Encinitas Cut-Out Ballet, $38.00 at
UrbanOutfitters
2. Coach Melisa Ballet Sneakers, $98.00 at
Coach
3. Kenneth Cole Reaction Peek Peek, $37.99 (original price, $79.00) at
Piperlime
Flats
Flip flops, jelly flats, toe-ring sandals and gladiators are all perfect for shorts this summer. From basic rubber flats to metallic gladiators, the options are endless. You cannot go wrong with shorts and flats. Try to look for skimpier and simple styles which will give your legs a longer and slimmer appearance.
1. Alexandra Neel Flip Flops, $161.45 at
Yoox
2. Dolce Vita Athens Thong Sandal, $69.95 at
Nordstrom
3. Wet Seal Metallic T Strap Sandal, $14.50 at
Wet Seal
Espadrilles
A summer favorite, the espadrilles come in a variety of styles. These rope-covered heels are great with shorts of any length. Espadrilles paired with shorts look very cosmopolitan and sexy.
1. UrbanOutfitters Criss Cross Espadrille, $49.99 (original price, $160.00) at
UrbanOutfitters
2. Jacques Lavine Mula Espadrille Thong, $69.99 (original price, $110.00) at
Bloomingdales
3. Anthropologie Rainbow Twirl Espadrilles, $138.00 at
Anthropologie
Related Article ::
Trend Watch - Micro Shorts
Friday, August 17, 2007
An Art in Your Hands
Judith Leiber, a leader in couture handbags, has created more than 3,000 different designs in a career that began in the 1960's. Over 100 can be found in exhibitions and museums like the Metropolitan Museum of Art and the Smithsonian. Best known for her signature crystal covered minaudières (small ornamental cases) in the fanciful shapes of animals, fruits or anything she fancies.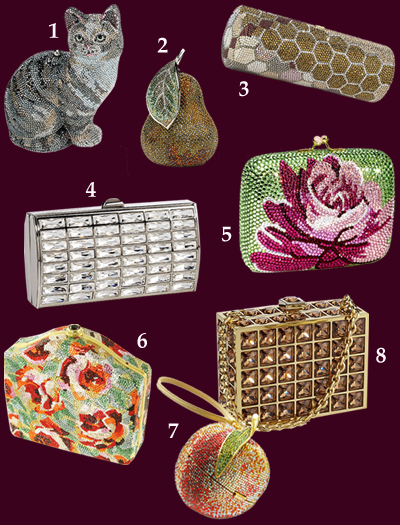 Leiber created her first minaudière in 1967 when she order of a polished metal box as a gift for a friend had scratches all over the body. Mrs. Lieber got out her craft box and creatively covered the entire box with gorgeous crystals. Fast forward 40 years later, and the same techniques are still being used.
In Hollywood, her handbags have graced by celebrities as Greta Garbo, Elizabeth Taylor, Joan Rivers, Beverly Sills, Barbara Walters, Elizabeth Hurley and Bjork. Her bags have also been carried by every First Lady since Nancy Reagan.
1.

Cat, $3695.00


2.

Pear, $3295.00


3.

Crystal Roll, $3495.00


4.

Goddess, $2495.00


5.

Coin Purse Clutch, $3295.00


6.

Curved Top Bag, $3350.00


7.

Peach Minaudiere, $2995.00


8.

Princess, $1995

Shop for Judith Leiber's creative bags at ::
Judith Leiber
Saks Fifth
Borsheims
Bergdorf Goodman
Thursday, August 16, 2007
Say What...Asymmetrical
adjective
[ey-suh-me-trik]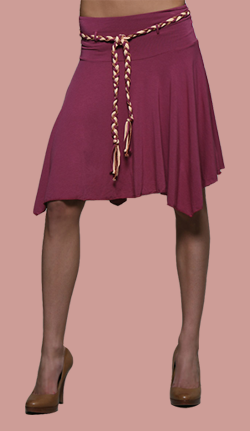 Used in fashion to denote a design line that is not identical on both sides of a central line. Spatial arrangement or placement of parts or in an irregular shape. A skirt or dress with a crooked hemline.
(Ella Moss Braided Tie Skirt)
Luxe For Less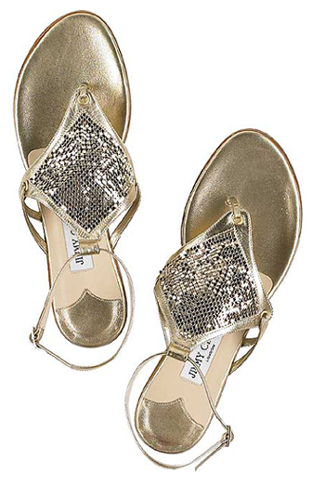 Jimmy Choo Juniper Flat Sandals ($535.00)
Gold flat sandals with a chain mail panel features toe post, thin buckle fastening ankle strap.
Oh Deer! Southbeat Flats (Now, $99.99. Was, $185.00)

Strappy flat with mesh at toe with buckled ankle strap.
Labels: Luxe For Less, Luxury Shoes, Shoes
What Would You Wear?
If you have not heard of
ShopStyle
, here is the 411. ShopStyle if the first and only search engine dedicated to fashionistas. At ShopStyle, you can build ensambles and looks.
ShopStyle recently ran a contest entitled "If I were attending my ex-boyfriend's wedding". All you have to do is search for of amazing clothes to make your ex's heartbeat race, put it together, write a short description of your choice and send it in to win a $150 gift certificate to Shopbob. The contest ended on July 27th.
I decided to create a look. However, I did not win. Below is my get-up. What would you wear if your ex boyfriend got married?
Labels: Bangles, Diamond, Dress, ShopStyle Ex Boyfriend's Wedding Contest
Sunday, August 12, 2007
America's ULTIMATE Bagaholic


Bag Borrow or Steal, the "luxury on loan" online retailer that allows women to borrow designer handbags and jewelry, recently launched the "America's Ultimate Bagaholic" contest where the winner will land her dream job. There are two ways of entering the contest. Show your obsession in either a photo with a 100 words or less essay or via video on YouTube.

For more information on the contest and submissions, please visit Bag Borrow or Steal/Bagaholic

Submissions by September 4, 2007.
Labels: Bag Borrow or Steal
Tuesday, August 07, 2007
Trend Watch - Micro Shorts
Micro, itsy bitsy short shorts are a one of summer's big trends. Trendsetting celebs like Hilary Duff, Jessica Simpson, Kate Moss and Fergie are taking every opportunity to show off their pins (and to make us jealous). I have never been a big fan of mini shorts as they can either make you look amazing or make you look like a sl*t. However, I am changing my mind after seeing these celebs pull them off stylishly.
If you have mile-long legs, a pair has your name on it. If you dont, there are always bermuda shorts.
Do ::
Wear your shorts with a pair of heels to stretch your figure.
Get a linen, cotton or any relaxed fabirc as synthetics can make you look larger than you are and they are not summer appropriate.
Avoid high-waisted shorts no matter how trendy they are if you are pear shaped.
Wear your shorts with a pair of nude shoes for a leg-lenghening look.
Wear tunics with your shorts ala Nicole Richie.
Don't ::
Buy anything that makes you are not sure of. You will never wear it.
Go for really tiny shorts if you have shorter legs. Only Kate Moss' legs can pull them off.
Wear three-quarter length boots with shorts – they'll 'chop' up the leg.
Dont go skimpy on top. The shorts are sexy enough, so cover up your top half with some contrasting layers or a floaty top.
Get too wacky. Keep things simple – the shorts are enough of a statement.
Labels: Fergie, Hilary Duff, Jessica Simpson, Kate Moss, Micro Shorts, Summer, Trend Watch
Sunday, August 05, 2007
Ini, Mini, Myni, Mo
Hey All,
I know that this does not have anything to do with Haute Stuff, but I am having a hard time picking this. My cousin is getting married end of this year. So, she asked me to sketch some bridal gowns for her (I used to study fashion designing). She is going to wear a colored dress - no white. I gave her this three to choose from, and she cant make up her mind. Therefore, I have to do it for her.
Which do you think is the best?
Gown 1
Alencon Lace corset strapless mermaid gown with beaded Brocade at waist. Bastiste and Charmeuse skirt with Jacquard loom.
Gown 2
Jeweled sweetheart neckline with straps in Duchesse Satin and ruched Gorgette satin empire waist. Tulle mermaid skirt with Lace trimmings.
Gown 3
Halter neck, tiered mermaid gown. Luxury satin and tulle bodice with taffeta gown.
Say What...A-Line
noun
[ey-lahyn]
A-Line
is a cut of garment silhouette that is narrower at the top, flaring gently wider toward the bottom. Hence, resembling the letter 'A' giving increasing fullness toward the hemline. Works well on most figure types. Good for disguising bottom-heavy figures. The term was coined by Christian Dior.
Origin ::
1960 to 1965
(Bari Jay Strapless Organza Dress)

Labels: Say What
Thursday, August 02, 2007
Haute Finds...The Bra(g)
If you are like me, you need the Bra(g).

It is a solution if your bras tend to arrive dented and re-shaped. Tha Bra(g) makes packing and protecting your bras easy, and it is so cute! This bra case can fit up to 6 bras up to size 'C' and some 'D' cups.




















Chocolate Delight

This scrumptious bra(g) satisfies every woman's taste - in dark chocolate brown, polka dots and peppermint pink frill.
















Classic Black

This take-anywhere bra(g) is in classic black.



















Leopard

Purrrrrr ... This luxurious cream colored bra(g) with leopard print trim, is sure to bring out the animal in you!



















Pink Polka Dot

Pretty in pink for the fun-loving flirty girl, this bra(g) is pink with black polka dots, with black frill and trim.

















Labels: Bras, Haute Finds, The Bra(g)
Trend Watch...Fight Club
Have you noticed the rise of 'Gladiator' sandals on the feet of A-list celebs? These sandals have made their way from the coliseum to the catwalk. The flat version can be worn with a sexy white dress for a modern Helen of Troy look, pair it with a skirt with a high hemline or with a flowing Grecian maxi dresses.
In either metallic or natural tan, the gladiator sandal is a hot look for summer. Perfect for strolling and sightseeing whilst on holiday, gladiators add chic to casual wear and tone down more formal encounters. These sandals are relaxed and glamourous. However, Gladiator flats aren't particularly forgiving on short legs. Make sure you own a lean paor of pins to wear these.


1 :: Davis By Ruthie Davis Multi Strap Sandal, $350.00 at Daszign
Feel fabulous in this strappy sandal, in sexy cherry red.

2 :: Oh Deer! Santorini Flat, $125.00 at Urban Outfitters
This sexy Oh Deer! Santorini flat sandals with fringed suede upper trimmed with gold rivets looks like something Sienna Miller would have in hew shoe collection.

3 :: Cordani Izzy Thong, $164.95 at Endless
Fashionable and comfortable for work and play, this sandal combines modernity and simplicity with suede uppers and rubber soles.

4 :: Lanvin Gladiator Sandal, $230.00 (original price, $345.00) at Barneys
These Lanvin Gladiator Sandals, are one of the best out there (to me). Worn with itty-bitty shorts and bedazzle.

5 :: Emilio Pucci Suede Gladiator Sandal, $122.50 (original price, $245.00) at Net-a-Porter
A chic gladiator style sandal in a dazzling shade of blue which can be worn with everything from mini dresses to pants and shorts.

6 :: Topshop Summer Sandal with Silk Tie, £20.00 (aprox. US$30.00) at Topshop
These ankle silk tie sandals are uber sexy in lime green. The ankle tie is 100% silk and the shoes are leather.

7 :: Tyler by Richard Tyler Willing Sandal, $64.99 (original price, $109.00) at Piperlime
Grecian-inspired Richard Tyler sandal is detailed with leather straps. Wear it with a sun dress for a sexy, feminine summer look.

8 :: Aerosoles Sanctuary Sandals, $68.95 at 6pm
Go full on boho in this sexy gladiator. Wear it with maxi skirts or pair it with relaxed jeans or shorts for summer chic.
Labels: Charlize Theron, Drew Barrymore, Gladiator Sandals, Heidi Klum, Mary-Kate Olsen, Nicky Hilton, Shoes, Sienna Miller, Summer, Trend Watch