Thursday, November 29, 2007
Hi Darlings...
I am so sorry for not posting anything for the last 10 days. I was admitted into the hospital a week ago for serious eye infection. So, if you see an Asian + Caucasian girl walking with a pirate patch on her right eye in the streets of Tokyo, it might just be me!!
I will be back soon with these new posts ::
Gossip Girl - Jenny
Fall Sample Sale
Estrella
1:42 AM
Sunday, November 18, 2007
Gilt Groupe Invitation


Gilt Groupe is a referral based online community dedicated to offering their members unique access to highly coveted luxury and fashion brands at the most desirable price.

Gilt Groupe hand selects both established and up-and-coming designers relevant to their membership base. Every Shopping Event is designer-specific and held over a 24 hour period (or until sold out.) All sales take place on Gilt Groupe's website Gilt.com.

Upcoming Sales at Gilt
Judith Ripka
Lorelei
Rachael Roy

If you are interested to be a part of this exclusive invitation only community, please insert your email address in the comment form or send me an email at HauteStuffBlog@gmail.com as I have 300 invitations to give away.

11:37 PM
All That Shimmers Is Gold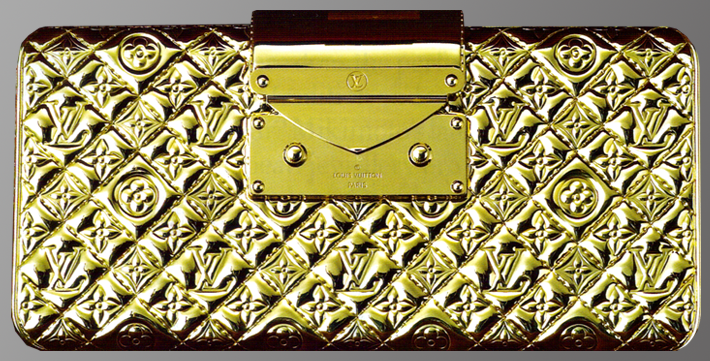 I really want this... This stunning minaudiere combines two of life's most coveted things - gold and this jewelery-meets-accessory Louis Vuitton mini bag. A white gold minaudiere debuted in Fall/Winter 2006. However, with yellow gold being the metal
du jour
this year, Louis Vuitton created an 18-carat gold version.
This uber exclusive minaudiere features the Louis Vuitton signature logo and monogram flowers manually embossed onto its exterior. This masterpiece not only requires remarkable and dedicated skill, but an incredible 300-man-hours of focused work.
Naturally, the clutch is made to order and takes six to eight months to create. So, how much is this fashionable gold bar? Approximately
$355,500.00
!!
10:31 PM
Thursday, November 15, 2007
Rarechic Fall sale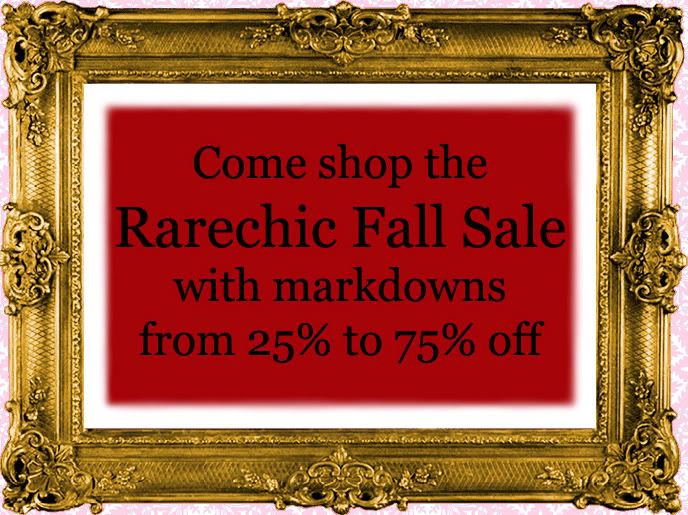 New online boutique
Rarechic
is a website that's primarily made up of a carefully edited selection of harder to find brands of women's clothing, accessories, handbags, home accessories, gifts and pet accessories.
They carry brands like CassGuy, Steven Alan, Elijah, Sharon Segal, Reyes, Doucette Duvall, Gryson, Earnest Sewn, Erin Fetherston, Elyse Jacob, Mine jewelry, EAT Home Accessories, DFC Casa and Flavor Paper as well as Miss Davenport starting in November.
Rarechic is having a fall sale right now with amazing markdowns on items not marked down elsewhere. Gryson, Elijah, Reyes and Geren Ford (all carried at Neimans and Saks) are now marked down 25% to 50% off.
See you there!!
9:22 PM
Tuesday, November 13, 2007
Co-Author
Hey All,
I am looking for a co-author for Haute Stuff. If you are interested, please email me at
HauteStuffBlog@gmail.com
Thanks,
Estrella
9:14 AM
Friday, November 09, 2007
Reem Acra Evening Collection



Reem Acra needs no introduction. her gorgeous dresses and gowns have graced the pages of In Style, and Vogue and loved by both celebrities and brides. . You will be able to find evening gowns, cocktail dresses and evening separates from 60% off.

Event Begins :: Wednesday, 14 November 2007
Event Ends :: Saturday, 17 November 2997
Event Times :: Wednesday - Friday, 10.00am - 6.30pm / Saturday, 10.00am - 1.00pm
Location :: 14 East 60 Street, Suite 212 on the 2nd Floor (Fifth-Madison Avenues)
Phone Number :: (212) 421 3200
Payment Type :: CASH / VISA / MC / AMEX

See you there!!


View Larger Map
10:12 AM
Tuesday, November 06, 2007
Accessories Trends to FALL In Love With Part 2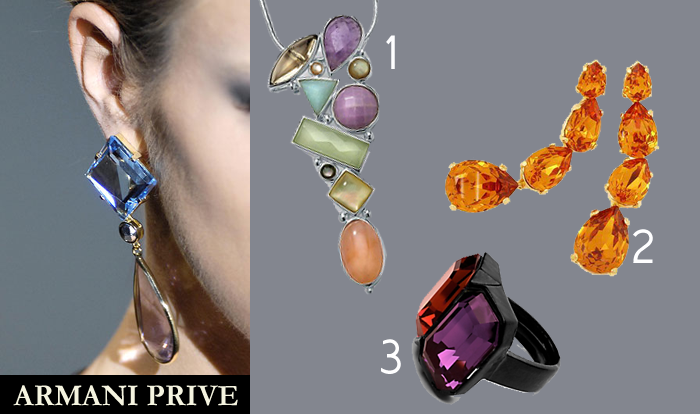 Glamorous Jewelry
Expect innovative designs and beautiful gemstones this fall. If bright stones are not for you, look for a more neutral palette like tiger-eye.
1. Laredoute Multi-Gem Silver Pendant, $69.99 at
Laredoute
Exuberant pendant combines amethyst and smoky quartz gemstones, with pink, yellow and black mother-of-pearl, blue quartz, chalcedony, green jade and peach quartzite in a unique design.
2. AZ Collection Crystal Earrings, $79.90 at
Forzieri
Look glamorous with a pair of tangerine Swarovski crystals dangling from your ears.
3. Kenneth Jay Lane Double Crystal Ring, $105.00 at
InterMix
This chic faceted crystal ring in a combination of amethyst purple and ruby red is fashionably elegant.
~~~~~~~~~~~~~~~~~~~~~~~~~~~~~~~~~~~~~~~~~~~~~~~~~~~~~~~~~~~~~~~~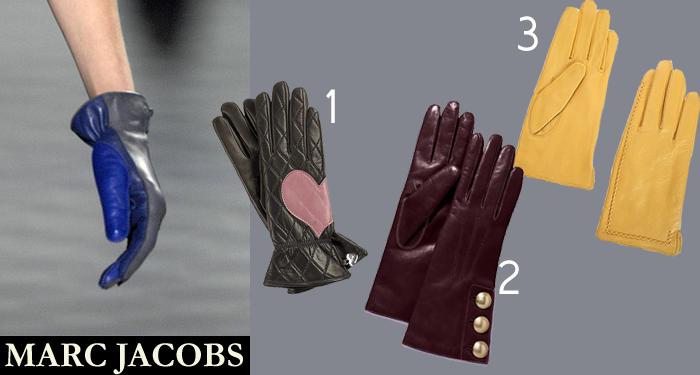 Lady-Like Gloves
From fabrics to leathers, a lady should always have on a pair of pretty gloves. They make your hands look slimmer and pretty.
1. Moschino Cheap & Chic Quilted Gloves, $295.00 at
Net-A-Porter
Brown leather applique heart detailed gloves are uber lady-like and elegant.
2. Coach Women's 3 Button Glove, $158.00 at
Coach
Wear this feminine glove up or down for a sleek, fashionable accent.
3. UrbanOutfitter Leather Gloves, $38.00 at
UrbanOutfitters
Warm and completely ladylike, this mustard yellow glove is trimmed with tonal leather lacing.
~~~~~~~~~~~~~~~~~~~~~~~~~~~~~~~~~~~~~~~~~~~~~~~~~~~~~~~~~~~~~~~~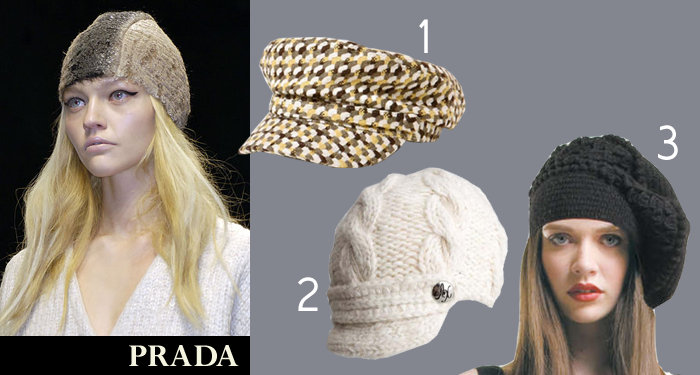 Woollen Hats
A good woolen hat will not only keep you warm but also completes your outfit. Steal Sienna Miller's style by donning a cute beret or cap.
1. Anthropologie Extra, Extra Hat, $48.00 at
Anthropologie
You're sure to make headlines in this yellow tweed newsboy with button detail.
2. A/X Lurex Knit Hat, $58.00 at
Armani Exchange
Finish your look with this casual and chic lurex hat.
3. MaxStudio Knit Wool Cashmere Rasta Hat, $148.00 at
MaxStudio
This yummy wool and cashmere tam combination lends a homemade and charming touch to this stylish hat.
Related Article ::
Accessories Trends to FALL In Love With Part 1
8:56 PM
Lafayette 148 New York Fall Sample Sale
Women's wear designer, Lafayette 148 New York, sold at Saks and Neiman Marcus is fast becoming a celeb favorite for its chic and modern separates. From daytime to evening, there is something for everyone.
Save up to 80% off wholesale prices on all merchandise at the sale.
Sale Begins ::
Wednesday, 14 November 2007
Sale Ends ::
Saturday, 17 November 2007
Event Times ::
Wednesday to Friday, 9.00am - 7.00pm / Saturday 10.00am - 6.00pm
Location ::
148 Lafayette Street (Between Howard & Grand)New York, NY 10013
Phone Number ::
(877) 523-1488
Payment Mode ::
Cash / VISA / AMEX / MC
View Larger Map
10:33 AM
Accessories Trends to FALL In Love With Part 1


When you think of fall accessories, the only things that come to mind are scarves, coats and gloves. But fall accessories are anything but boring and buttoned-up. Instead, think sexy patent gloves, vintage-inspired clutch and eccentric bags.




Classic Sunnies
Oversized aviators have been a statement look for 2007. The hot trend will continue into fall with a more classic touch. Think of Jackie O and her glamorous retro sunglasses.

1. Roberto Cavalli Apsirto Swarovski Crystal Sunglasses, $378.00 at Forzieri
Cavalli's impeccable sleek elegance make these shades a must have accessory.

2. Spitfire Candybar Sunglasses, $35.00 at Tobi
Edgy and curvy oversized sunglasses from Spitfire that offers distortion free lenses and protection against harmful UVA and UVB rays.

3. Yves Saint Laurent Oversized Sunglasses, $156.00 at Bluefly
Protect your eyes with this sleek oversized square grommet sunglass.

~~~~~~~~~~~~~~~~~~~~~~~~~~~~~~~~~~~~~~~~~~~~~~~~~~~~~~~~~~~~~~~~




Chic Textured Belts
A key belt trend for this fall is the opulent textured belt. Look for grommets, studs and hardware that are inspired by Gothic styles.

1. Fossil Studded Eyelets, $36.00 at Fossil
Rocker chic leather belt with eyelet and stud detail.

2. J.Jill Lace-Overlay Belt, $34.00 at J.Jill
Gothic inspired delicate lace over textured leather belt.

3. Nine West Take A Trip Belt, $38.00 at Nine West
This patent perforated belt will give your outfit an edgier look.

~~~~~~~~~~~~~~~~~~~~~~~~~~~~~~~~~~~~~~~~~~~~~~~~~~~~~~~~~~~~~~~~




Embellished Cluchetes
Beads and silky smooth fabrics all speak of opulent cold nights. Look for elegant embellishment and luxe details. This will make even the plainest outfit stand out.

1. Marc by Marc Jacobs Crazy Jewels Clutch, Price Unavailable at Saks
This bejeweled wristlet is just the right size for a night on the town.

2. Anthropologie Beaded Silk Evening Bag, $138.00 at Anthropologie
A quaint antique-esque clutch with intricate embroidery and beadwork is perfect to finish any dress.

3. Marni Brooch Embellished Clutch, $438.00 at Net-A-Porter
This beautiful clutch with brooch detailing is a must have for your fall wardrobe.


PS :: Checkout the new trademark on the pix
9:22 AM
Thursday, November 01, 2007
What??!! No Broadband??!!
I am so sorry for not posting anything this week. I am currently in Jimbaran, Bali and they do not have any broadband coverage. I can use the Business Centre at the hotel, but they charge USD15.00 for an hour of Internet usage. I know, crazy! I will be back on Monday with new posts.
Ta,
Estrella
9:06 AM