Saturday, June 23, 2007



A Night Without Marc Anthony




Jennifer Lopez attended was at the launch of

Lorraine Schwart's Monkey Diamond Collection

in New York City alone. For once in a really loooooong time, J. Lo is looking good. I think it's because her skeletor husband is not there to spoil her pics.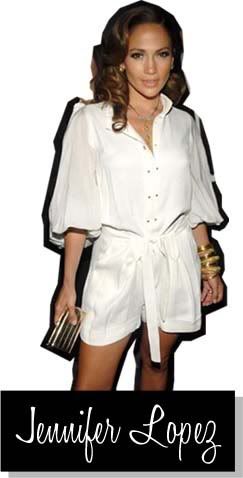 'Jenny from The Block' looked like a Grecian goddess in a bright white Albino one-piece the launch of the jeweler's new line. Lopez paired her romper with a necklace from the designer's monkey-inspired collection and an arm-full of gold bangles. She finished her look with gold clutch.

A romper is a one-piece short suit. Rompers are cute and perfect for Summer.

However, rompers look best on a very particular body-type. You will have to be of average height, with long legs and a very lean body.

If you happen to be that body-type, or you're going to wear a romper anyway, you should know that it is best to keep your look minimal. An ultra-hip sunglasses, a pretty necklace, a few bangles and a simple shoe + handbag should do the trick.

7:38 AM