Sunday, August 19, 2007
Shoes for Short Shorts
Shorts have been a summer-time staple for decades. Micro shorts can be more flattering than a lot of women think - especially when they're paired with the right shoes. As shorts can be very unforgiving, pick out your shoes carefully. The wrong pair can make you look like you work on the streets. Another pair of shoes can make you look totally different.
Ankle Strap
Sandals with ankle straps are just plain sexy. They are an ideal match for shorts. Dressier styles are great for twill, linen and other dress shorts. The trendy platforms or sandals with chunky heels are great for denim. However, if you are vertically challenged, try not to wear shoes with ankle straps as they will cut your legs in two sections making you look stockier than you really are.

1. Spiegel Ankle Strap Sandal, $34.99 (original price, $59.00 at
Spiegel
2. Louis Vuitton Amber Ankle Strap Sandal, $825.00 at
eLuxury
3. Camille Cork Platform, $252.00 (original price, $615.00) at
Footcandy
Wedges
Since they show so much leg, short shorts can handle a more significant heel. Wedges are a great choice for summer. However, stay away from bulky wedges. Choose styles that feature thinner straps to keep our feet from looking too chunky.

1. Nine West Linneus, $79.00 at
Piperlime
2. Kors by Michael Kors Brooke Wedge, at $240.00
Madison LA
3. Oscar de la Renta Open Toe Wedge, $322.50 (original price, $645.00) at
Oscar de la Renta
Ballet Flats
Take a cue from Mischa Barton and wear ballet flats. Ballet flats are perfect for the casual look. There are a variety of dressy and casual shoes to choose from. Wear them with cotton or denim shorts.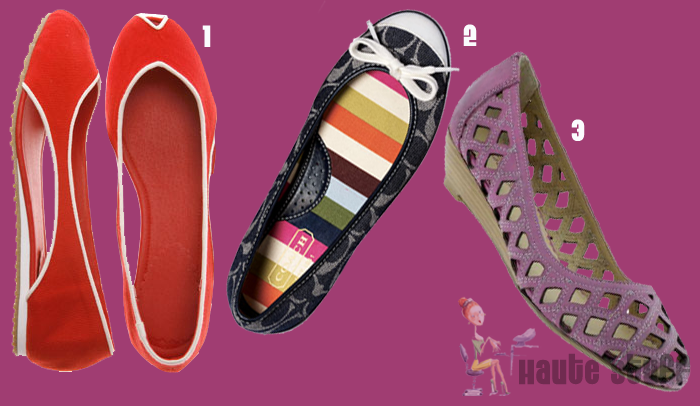 1. Encinitas Cut-Out Ballet, $38.00 at
UrbanOutfitters
2. Coach Melisa Ballet Sneakers, $98.00 at
Coach
3. Kenneth Cole Reaction Peek Peek, $37.99 (original price, $79.00) at
Piperlime
Flats
Flip flops, jelly flats, toe-ring sandals and gladiators are all perfect for shorts this summer. From basic rubber flats to metallic gladiators, the options are endless. You cannot go wrong with shorts and flats. Try to look for skimpier and simple styles which will give your legs a longer and slimmer appearance.
1. Alexandra Neel Flip Flops, $161.45 at
Yoox
2. Dolce Vita Athens Thong Sandal, $69.95 at
Nordstrom
3. Wet Seal Metallic T Strap Sandal, $14.50 at
Wet Seal
Espadrilles
A summer favorite, the espadrilles come in a variety of styles. These rope-covered heels are great with shorts of any length. Espadrilles paired with shorts look very cosmopolitan and sexy.
1. UrbanOutfitters Criss Cross Espadrille, $49.99 (original price, $160.00) at
UrbanOutfitters
2. Jacques Lavine Mula Espadrille Thong, $69.99 (original price, $110.00) at
Bloomingdales
3. Anthropologie Rainbow Twirl Espadrilles, $138.00 at
Anthropologie
Related Article ::
Trend Watch - Micro Shorts
10:07 AM