Tuesday, December 04, 2007
Gossip Girl - Jenny
Jenny Humphrey (Taylor Momsen)
At age 14, Jenny is the youngest of the Gossip Girl characters. She has long, blond hair (Similar to that of Serena Van der Woodsen). She is the younger sister of Dan Humphrey. Jenny is an aspiring artist and holds a secret desire to be a model like Serena van der Woodsen, whom she eventually befriends. She often tries to fit in with the rich girls at her school, even though she does not hold a place in their social sphere. She often goes on wild and embarrassing exploits to set up an image for herself- for example, accidentally starring in a photo shoot for an article entitled "Does Breast Size Matter?", getting a scandalous video of her and Nate Archibald circulating on the Internet, and spending a little too much time with a popular indie rock band called the Raves. She ends up going to boarding school, Waverly Academy, to reinvent herself as the 'It Girl', a la Serena. She is now the main character in a spin-off series called 'The It Girl'.
Look 1
Jenny finds herself wrapped up in a game of truth or dare at the infamous sleepover hosted by Blair.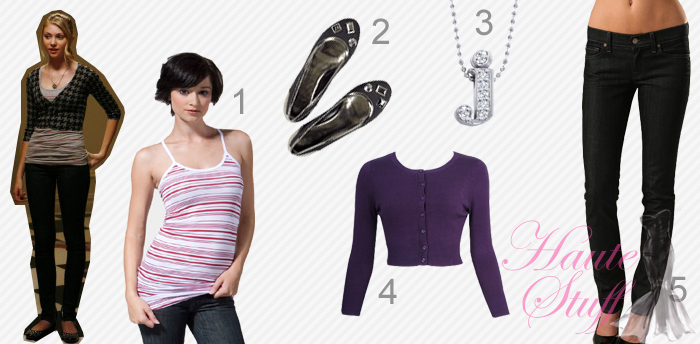 1. C&C California Striped Tunic, $28.00 (original price, $55.00) at
Revolve Clothing
One of the 2007's hottest tredns, the tank tunic is comfortable and great for a fun day with the girls or a night of partying.
2. Burberry Embellished Ballet Flats, $276.50 at
Net-A-Porter
Beautiful embellished ballerina flats withe metallic trim for day or evening.
3. Alex Woo Little Letter J, $128.00 to $758.00 at
Alex Woo
With signature sculpting, each elegant letter hangs on a delicate diamond-cut chain.
4. Forever21 Cropped Cardigan Sweater, $15.80 at
Forever21
This cropped cardigan sweater with ribbed trim is the must have outerwear for this fall.
5. Seven Jeans Roxanne Jean, $152.00 at
Shopbop
Seven's decidedly sophisticated take on the classic skinny denim pants.
~~~~~~~~~~~~~~~~~~~~~~~~~~~~~~~~~~~~~~~~~~~~~~~~~~~~~~~~~~~~~~~~
Look 2
Jenny dons on a bold polka-dot dress and finishes her look with a contrasting bright bag while running errands for Blair's masquerade ball.
1. Banana Republic Bianca Slouch Boot, $198.00 at
Banana Republic
I am giving Jenny's outfit a finishing touch with this sexy tan boot. There's nothing better than a good slouch boot to put a little flirt in your walk.
2. Brooks Brothers Camel Hair Blazer, $498.00 at
Brooks Brothers
Luxurious camel hair jacket is lustrous, very soft and will look good with just about anything.
3. Diane von Furstenberg Alejandra Sheath Dress, Price Unavailable at
Nordstrom
Large polka dotsed dress styled with a square neckline is sexy without revealing too much.
4. Yak Pak Magical Pegasus Purse, $24.00 at
FredFlare
Add a splash of color with this dazzling print purse, perfect for casual and festive
outings.
~~~~~~~~~~~~~~~~~~~~~~~~~~~~~~~~~~~~~~~~~~~~~~~~~~~~~~~~~~~~~~~~
Look 3
Jenny looks sophisticated and elegant in this dress and coat combo.
1. Whiting & Davis Metal Mesh Clip-On Mini Bag, $40.00 at
Shop Intuition
Shimmery metal mesh coin purse that doubles as an evening bag with chain accent.
2. Rachel Leigh Panel Bangle, $176.00 at
Couture Candy
Rachel Leigh's bold designs embody fun, chic modern style.
3. BCBGirls Ariel Peep Toe Pump, Price Unavailable at
Amazon
Add sex appeal to any esamble with this pump.
4. Milly Peter Pan Collar Coat, $354.00 (original price, $590.00) at
Net-A-Porter
Retro esque black and gold swirling print coat with a Peter Pan collar is sure to be a wardrobe favorite.
5. Lorick GG Dress, $410.00 at
Gargyle
Add some bright colors to your Fall/Winter wardrobe with this strapless, silk dupioni dress in bright yellow.
10:43 PM